The Hitler-Noose Double Standard?

ESPN writer's suspension recalls Golfweek firing.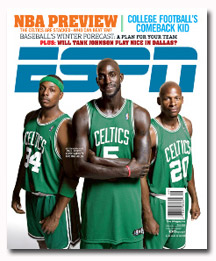 Richard Prince, the editor of Journal-isms—the
Romenesko-like site for black and Hispanic journalists—has an
interesting take on the suspension
of an ESPN The Magazine writer over a blog post in which she compared rooting
for the Celtics to "saying Hitler was a victim." (ESPN says the writer, Jemele
Hill, is due to return this week.)
Prince points to a video produced by Black
Entertainment Television "that assails the current state of hip-hop" with "an
image of dead African Americans swinging from trees."
Prince writes: "We seem not to have the same
degree of sensitivity toward references to lynching, a form of domestic
terrorism used for years to keep blacks and others 'in their place.'"
There are some problems, though, with that
argument, I think.
A few months ago, for starters, a Golfweek
editor was fired for using a noose on its cover to depict the figurative "lynching" of Tiger
Woods.
And, as Prince says, BET hasn't aired the
video (of course, it's been leaked online) and isn't commenting on it. Assuming,
for a moment, that BET wasn't the source of the leak, that means they realized
they made a mistake before making it public-something that not only is allowed,
it should be encouraged. How else can you progress without pushing the
envelope?
The real double standard is how Golfweek's editor
got the axe, and ESPN's a mere suspension. That, though, probably has more to
do with the visceral effect of a "noose" cover, versus a blog post.
Doesn't make it right, but might explain it a
bit.
Meet the Author
---