Hiring a Musician to Edit a Magazine

We were fans of his music; he was a fan of our magazine.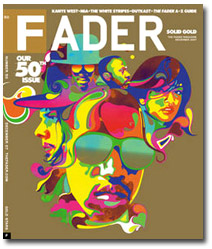 Recently, I had the task of finding a new top editor for The Fader magazine and Web site. Being a very targeted and specific editorial property, it is never an easy job to find an editor that meets all of our so-called "requirements," which are many and include (but are not limited to) writing/editing skills, vast knowledge and experience covering underground and emerging music of all genres, ability to work in a collaborative editorial environment and a multi-dimensional background not strictly limited to writing and editing. The last one is somewhat unique in that we want writers and editors here that aren't just coming from a traditional/pure journalism standpoint (our new editor was not only a writer for the Washington Post, but lead singer of an influential indie rock band).
Of course they need to know how to write/edit first and foremost, but having diversity is a key way for the tone of our title to differentiate itself from the "other" music magazines and Web sites. That all being said, after interviewing a host of great candidates, one thing truly stood out through the process and actually reminded us what we are all about and what many other magazines should give heavier consideration to in their editorial hiring process is PASSION for the particular subject matter and magazine. There were many qualified people, but the ones that stood out were the ones who loved The Fader, and the feeling that they were not just looking at this opportunity as another resume building block, but a sincere desire to be a part of something they love. It's been my experience that these individuals are also much more loyal, take on a feeling of ownership and dedicate themselves on a deeper level.
Meet the Author
---