Hiring—and Feeding—Competent Editors

Sadistic edit tests, 'kill or be killed' mantras, killer margaritas.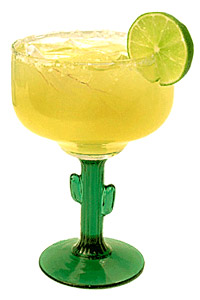 Aside from Southern Breeze magazine, my company also publishes several travel guides loaded with beautiful color photography and editorial, not to mention a plethora of newspaper and magazine inserts (most with editorial). As you can imagine, there's always something for an editorial staff to do!
All these projects are tackled by me and my assistant editor and editorial assistant. In the past I often turned to my stable of gifted freelancers, but this year the majority of the writing has been done in-house. The difference? My staff.
Last year I only had one staffer whose experience included weekly newspapers and an internship at a mediocre local magazine. On paper, her experience was ideal. Reality was a different story. Rather than regale you with tales of her sour attitude, arrogance ("I didn't get a journalism degree for this!"), and ineptitude, I'll cut to the chase: she resigned a week before she was to be fired, thankfully.
When it came time to hire new employees, I found that I had an embarrassment of riches. From newspaper veterans in Louisiana to trade magazine editors in New Jersey to college seniors from all over the Southeast, my cup runneth over. This was a big change from the last time I hired which was in Manhattan in 1999 where one kid got a job for just showing up! This was at the height of the dot-com boom and we all know how that worked out!
I was determined to hire people who had a desire to prove themselves without the know-it-all attitude that comes after working a mere two years in the real world (I was there too, so I know of what I speak).
The first step, of course, was the interview while the second, more arduous step was an editing test. It took the applicants over two hours to complete and Catherine, my art director, called me a sadist after she saw it. I admit that I'm glad I never had to take this test but I was determined to get the right people for the job.
My new and improved staff now consists of an editorial assistant who began six months ago as an intern and an assistant editor with a spanking new M.A. in English. They both aced the editing test while, surprisingly, the candidates who did the worst were those who had been working in newspapers for a number of years, which proves experience isn't everything.
Since my new staffers have made my life easier, I am doing my best to reciprocate. Although I cannot fully control their salaries, I can control their work environment, especially since we all share the same office. It's not as cramped as you may think. Luckily my years as managing editor with a commercial buildings magazine came in handy and I repurposed the office myself, creating three separate work areas that allow for easy communication, but also for a modicum of privacy.
Aside from the physical work environment, I have established a trusting boss/employee dialogue in order to help them learn things about the magazine world; I share knowledge not just about the best way to conduct an interview or proper style, but also on the intricacies of the work world that the rest of us have become so accustomed to: office politics, etiquette, career growth, etc. I am trying to be the type of boss I would like to have; it's a variation on the "golden rule" we were all taught as kids: do unto others… Let's face it, all too often the mantra in the office is more akin to "kill or be killed" and not just in those Devil Wears Prada extremes.
Don't get me wrong: it's not all Valentines. When I close our office door, they know they're in for a "good talking to." So far, those incidents have been rare (I can only think of one off the top of my head), but they know I am serious and that if said mistakes are made again, there will be consequences. This also helps me communicate exactly what I expect from them and how seriously I take our mission.
Also, once a month we all go out to an "editorial meeting" which is simply a lunch at a local restaurant where they are free to discuss anything at all with me without any fear of reprisals. The lunch comes out of my own pocket but it is an investment I am more than willing to make. When the right staff comes along, you need to do all you can to keep them happy. Sometimes it's money, sometimes it's just being able to talk to them and treat them fairly. And honestly sometimes it's just a round of margaritas at El Toro!
Meet the Author
---