Hillary Memos Equal Record Traffic for Atlantic

Story generates 1.3 million page views in one day.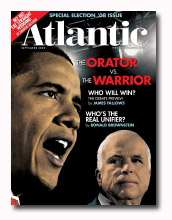 The Atlantic's story about leaked memos from the Hillary Clinton campaign drew nearly 1.3 million page views when it was published Tuesday, according to the company.
The site averages about 450,000 page views per day, according to data provided by the magazine.
It's not the first time the Atlantic has leveraged its political coverage to boost traffic. In May, an interview with Barack Obama about Israel—after the Democratic nominee received an unsolicited endorsement from Palestinian terror group Hamas—led to a significant single day spike in page views.
Leading with the Web is part of the Atlantic's plan to rebrand itself for the digital age. In April, the company announced an ambitious overhaul of the 150-year-old title, including a relaunch of the Web site and print magazine slated for completion this fall.
SEE RELATED VIDEO: A Q+A with Atlantic Media President Justin Smith
Since the Atlantic made the move to tear down its pay wall, TheAtlantic.com has seen considerable growth. In June, the site had 2 million unique visitors and 13.8 million page views, up from 969,000 unique visits and 5.25 million page views in June 2007.
Meet the Author
---