High Profile Magazine Editors Drink Whiskey, Discuss Industry's Gender Gap

Wide-ranging panel tackles editorial 'battle of the sexes.'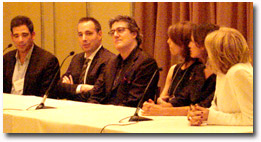 Left-to-right: Kaminsky, Peres, Napolitano, Postman, Leive, Coles
NEW YORK—Could a woman edit a men's magazine? Could a man edit a woman's magazine? Why are women's magazines shunned by the National Magazine Awards? Why don't women's magazines cover politics seriously? Why aren't they as irreverent as men's magazines? How has the newsstand crisis affected the way both men's and women's magazines approach editorial?
Did Vanity Fair know what it was doing with Miley Cyrus?
Those were some of the questions raised by a high-profile group of consumer magazine editors at Mediabistro's third annual dinner and discussion—sponsored, fittingly, by assorted perfume and lotion retailers and Maker's Mark whiskey—held here Tuesday.
During a wide-ranging, often candid discussion, the panel—Glamour editor Cindi Leive, Elle executive editor Alexandra Postman, Marie Claire editor Joanna Coles, Details editor Dan Peres, Maxim editor Jim Kaminsky and Playboy editor Chris Napolitano—addressed some of those topics, and a few more.
Story ideas that were once almost exclusively seen in women's magazines are now common in men's titles, the panelists said.
"Details draws a lot of inspiration from women's magazines," Peres said. "We now run grooming packages, 'How to Prep Your Body for the Summer.'"
The digital era has had an impact on consumer magazine editors well beyond how they approach breaking news, the panel said. "Magazines used to be a little more monolithic," Napolitano said. Now, "every page needs a little bit more direct and approachable."
Even for fashion magazines, the rise of the Internet has made magazine editors change their editorial approach. "Readers are much savvier than they used to be," Postman said. "It's virtually impossible" to break fashion news in print. "Readers have images off the runway the same day as the fashion editors," she said. "We've become curators."
That modern savvy has also led women's magazines to branch out into an area once exclusive to men's magazines: humor. Readers are smarter, and the humor is a little more knowing, Leive said. Still, the "specter of political correctness" hangs over women's magazines while the "specter of political incorrectness"—think Maxim's irreverence—hangs over women's magazines, Myers said.
Part of that, Kaminsky said, is because "Maxim changed the way men digest magazines."

'Pumping Gas'
The rise of celebrity has also changed the way both women's and men's magazines cover them.
"Celebrity is just as big a part of the cultural conversation as anything else," Postman said. "They are the new fashion icons, and our readers are interested in seeing what they wear on the runway, what they wear pumping gas."
Leive said the appeal of a female celebrity on women's magazine cover is "not so much about her being sexy as being relatable." Readers, she said, could "smell the fakeness" of a model on the cover. Like it or not, she said, celebrities "have real body issues" and are more like the average reader than models. "That's not a terrible thing."
Peres said that while Details continues its "vow of chastity" to feature men exclusively on its cover, he was "not opposed to putting a woman on the cover." But he added he had no plans to do so. (Napolitano mockingly begrudged the access other magazines get to A-list male celebrities. "Esquire gets to put George Clooney on the cover every other month, six times a year," he said. "Who's jumping up and down about Seth Rogen?")
The downside of this, Kaminsky said, was the "manufactured controversy" drummed up by Vanity Fair's instantly-infamous Miley Cyrus photo shoot. "They went out of their way to sexualize a 15-year-old girl," Kaminsky said, "and it sold a lot of copies of the New York Post and probably will sell a lot of copies of Vanity Fair." But to be shocked that a 15-year-old girl is brimming with sexuality, Leive said, "is disingenuous."

Switching Sides

Most of the editors—both on the panel and in separate discussions beforehand—agreed that while theoretically possible, having a woman or man as the chief editor of a magazine targeted to the opposite sex was not in the best interest of the reader. The reason, they concluded, was that the editor needs to be as close to the reader as possible. Besides, Leive said, the job of editor-in-chief has become so public and outward facing—one that includes TV and radio appearances—it would be difficult to properly market the magazine with the opposite sex at the helm.
"Now, I'd like to be deputy editor of a women's magazine," Napolitano said.
The newsstand crisis many consumer magazines are facing has, in some way, helped editors focus on their core subscribers.
The point was highlighted by Leive, when asked whether or not—given the rise of women's magazines doing serious journalism within their pages—women's magazines have been largely overlooked at the National Magazine Awards program. "I have so given up caring about that question," Leive said. "Millions of readers, they get it. We don't care that the larger world does."
Meet the Author
---