While it may not apply to overall advertising budgets, "big" was in for individual ad pages that ran in MPA member magazines in 2010.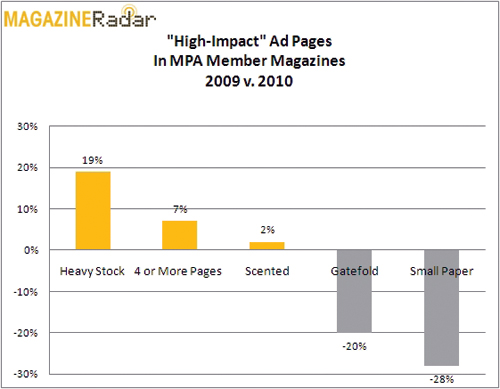 According to data collected by MagazineRadar, high-impact ads that ran on heavy stock were up 19 percent in 2010 and the actual ad size increased as well: the average number of heavy-stock pages per ad increased from 2.01 pages per ad to 2.26 pages.
Meanwhile, ad pages on small paper plunged 28 percent and gatefold pages fell 20 percent by the end of 2010. Ad pages that were scented stayed flat.
The good news? Ads (of any kind ) with four or more pages increased 7 percent over 2009 according to MagazineRadar.
Magazine publishers may have been the second biggest beneficiaries from the automotive industry bailout, with ad pages in automotive magazines jumping 16.9 percent last year, per Publishers Information Bureau. General Motors Corp. led all automotive advertising in magazines, spending $385.4 million in 2010, up 56 percent from 2009, according to PIB.
Automotive brands also made their comeback on heavy page stock, increasing ad pages on heavy stock by 65 percent over 2009. "It seems this category is an extreme representation of the market as a whole, since 'gatefold' ad pages for automotive brands dropped 28," says MagazineRadar spokesperson Amary Wiggin.