The Hidden Costs of Co-mailing

Smaller publishers must be wary of strict timing and distribution minimums.
Publishers have long been managing distribution costs by taking advantage of co-mail pools to qualify for much-needed discounts. Smaller publishers, however, that have circulations that bump against printer minimums for co-mail opportunities, are finding that the savings come with stiff requirements that can put a squeeze on advertising.
NewBay Media, a New York-based publisher of a mix of b-to-b and consumer titles in the musician and recording technology markets, switched printers last year to jump on the co-mail bandwagon to make a larger proportion of its circulation qualify for the discounts.
The majority of the publisher's magazines are at or lower than 20,000 printed copies. This threshold, as it turned out, became a potential liability in the pursuit of co-mail savings. "The consultants who negotiated the deals [with the printer] didn't realize there were many minimums," says Denise Robbins, NewBay's vice president and group director of circulation. "There were 10,000 minimums on splits and no polybagging."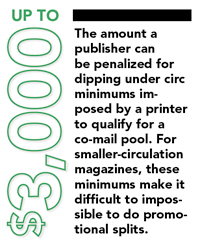 As most publishers know, maintaining or growing print circulation is challenged to begin with these days, and Robbins found that keeping the splits over 10,000 was becoming increasingly difficult. While this created headaches for promoting to two- and three-year subscribers, for example, it also monkeyed with the deals publishers were trying to make with advertisers.
Splitting the run to do a tip for subscriber renewals could cause the run on some titles to dip below the 10,000 minimum and incur a $2,000 to $3,000 penalty—the same went for splits for advertisers. "If you're an advertiser who wants to do a split, it could end up being only 8,000 subscribers, which adds to the cost. That cost has to be added back into the deal, which could kill it," says Robbins.
The upside, adds Robbins, is that publishers know they have to stick to deadlines, which helps the circ team manage the schedule better. However, publishers have less flexibility to hook last-minute deals.
"We've been managing the publishers a little more effectively, and in that respect it's helped us, they understand there's a financial penalty if they don't make the co-mail pool at the end of the month," she says. "But from the publishers' standpoint there's less flexibility because they can't take that last-minute ad."
NewBay has an option to make the second-to-last or last co-mail pool of the month, but typically takes the last pool due to the short lead-times for its magazines, and has built its production schedules around the co-mail pools. That timing also leaves little margin for error. Magazines can opt out of a pool, but if a title loses its co-mail discount because of a late sale, for example, that cost also has to be built into the deal—setting up a tense situation where cash-strapped publishers and marketers negotiate what might seem like small potatoes. "We're very close to our margins, and even $1,000 on an issue can push you over the edge," says Robins. "It might as well be $1 million."
And if four or five titles are on the verge of missing a co-mail pool, then a domino effect kicks in and costs suddenly balloon between $5,000 to $10,000. "That really hurts the bottom line," adds Robbins.
Promos Take the Hit, Too
Co-mailing puts pressure on promotions as well. Circumventing the polybag restriction for a Christmas subscriber promotion meant taking a $6,000 charge. The promotion was subsequently dropped. "We would have had to double our response to make it profitable, which we knew wasn't going to happen," says Robbins.
Meet the Author
---