Since it was first introduced to Twitter by Chris Messina nearly a decade ago, the hashtag has transformed the way individuals across the globe discover, engage with, and share content. It's become a ubiquitous presence across nearly every type of media—online and off—changed hip hop music forever, and even helped galvanize social movements, from #BlackLivesMatter to the Arab Spring.
Now, mobile media app HI-FI wants to use the hashtag to revolutionize the way publishers connect with—and monetize—their digital audiences.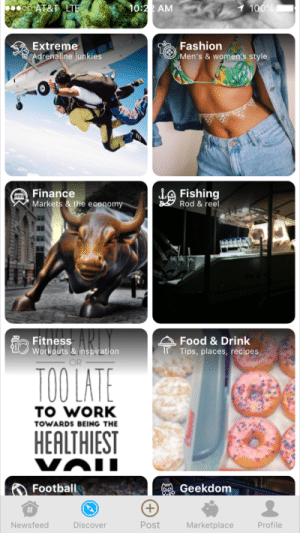 This week HI-FI launched Marketplace, a service through which publishers can purchase TagTopics, collections of curated news and lifestyle content organized by topic and deployed into users' interest-filtered news feeds. At HI-FI's core is the idea of the interest-driven network, designed to reduce clutter by only delivering content that is relevant to each individual user based on his or her passions and preferences.
"There is a social content consumption problem with some newsfeeds today as we currently know them, showing content irrelevant to our core interests," Sean Holzman, chief revenue officer at Bonnier, among the first publishers to leverage HI-FiIs platform, tells Folio:. "Our approach with HI-FI is on the basis of the interest graph, not the social graph. What our friends like doesn't always translate into what we like. We feel we can break through the social clutter through endemic enthusiast platforms like HI-FI."
When publishers purchase a TagTopic—#Cosmopolitan, #SportDiver, or #Basketball, to name a few—content can be automatically pulled into the feeds of that TagTopic's subscribers in real time as it appears on the publishers' website. It's not just for publishers, either; anyone can purchase a TagTopic for about $2.99 per year, and the first one's free.
Community building is the first step, and the HI-FI app offers a series of tools through which consumers can organically find new TagTopics that serve their interests.
Next comes monetization. As publishers continue to fight for revenue share in the increasingly unstable world of digital media, HI-FI partially markets itself as an alternative for those weary from "feeding on the scraps" of Facebook's multi-billion-dollar ad business.
"What we're seeing with a lot of publishers is they're shutting down their apps," HI-FI's chief digital officer, Christopher Yates, tells Folio:. "They're not sure how to monetize mobile. They're shutting down [their apps] because they're just too expensive to keep developing. Basically, we take that burden away from them."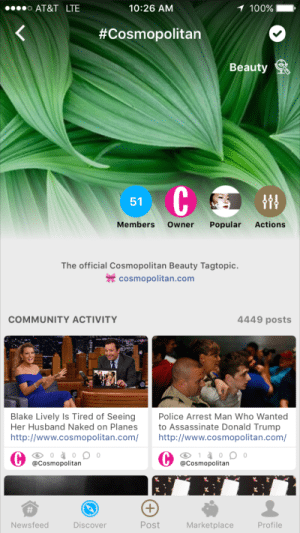 Likewise, mobile browsing is on the decline. An August 2015 report from Yahoo's Flurry Insights found that smartphone users spend just 10 percent of their time browsing the web and 90 percent in other apps, out of which Facebook, YouTube, and Snapchat dominate content consumption.
HI-FI offers three main forms of advertising, all of which are native in nature, according to Yates. The first is simply the ability to load any piece of native content that the publishers sell themselves into their TagTopic feed.
"They're going to be able to deliver an ad opportunity within HI-FI to sell as an integrated approach," Yates tells Folio:. "They can treat HI-FI almost like it's their own app. Anything they sell, they can monetize within the platform and keep 100% of the revenue."
Second, Hi-Fi, in partnership with Google, has allocated three different placements for Google's Native Express mobile ad units, which are automatically served to relevant TagTopics. After Google takes its cut, remaining revenue from those ad placements is split 50-50 between HI-FI and the TagTopic owner.
Finally, HI-FI plans to leverage its own sales team to sell advertising to brands in relevant communities. Like Native Express, revenue from those ads is split evenly between HI-FI and the TagTopic owner.
"Everything is going to be native," continues Yates. "We really want to make sure that we cater to the UI. It's very important that audiences feel that this is a very organic approach. When we see a lot of other major publishing companies lose their subscriber base, lose their readership, lose their digital audience, it's because there's a lack of specific interest to them. Where these enthusiast brands are thriving, they're not seeing those decreases because their users have a real emotional connection to their content. We don't want to interrupt that experience."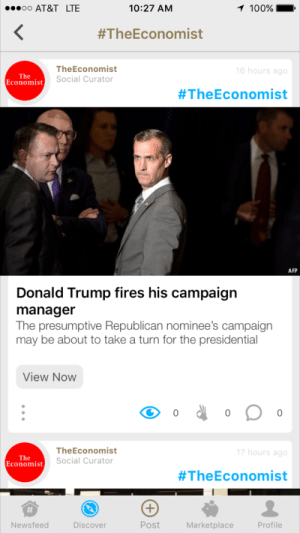 For Bonnier, which has been especially active in exploring new audience touchpoints lately, HI-FI represents a new way to connect with and monetize those readers whose topical interests have already been established.
"With so many users absorbing content through the mainstream social platforms, we feel HI-FI represents an additional platform that allows us to continue to create a one-on-one dialogue with our ideal target consumers," adds Holzman. "We feel this is an endemic environment for our enthusiast brands, allowing us to natively monetize users while they consume our content—which they know and trust."
Whether or not HI-FI truly becomes the next great digital frontier for publishers (the Ponte Vedra, Florida-based startup first launched the app last March, but the Marketplace only debuted on Friday), it certainly appears to be drawing interest from several media companies as a means of both growing audiences and driving new revenue.
Already joining Bonnier's Active Interest group titles on the platform are magazine brands Cosmopolitan, The Economist, Esquire, Dwell, Men's Health, The New Yorker, Outside, People, Taste of Home, and Wired, among numerous others.
"We see this as a two-pronged approach benefiting from user acquisition and financial monetization," says Holzman. "We expect these users to join our TagTopic communities, where—apart from providing them with new content in real time—we'll be able to monetize this valuable audience through native mobile ad serving platforms."