HGTV Magazine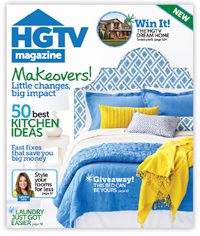 Hoping for a second magazine-TV hybrid grand slam, Hearst's HGTV Magazine is already at 257,000 subscriptions and counting.
In 2011, Hearst initiated its second partnership with Scripps Network Interactive. The publisher's first endeavor with the lifestyle media company amounted in the wildly successful television spin-off Food Network Magazine (its rate base just increased again from 1.4 to 1.45 million); and Hearst is hoping for a second smash with HGTV Magazine. The first test issue was distributed in October, with a second test issue in January 2012.
Hearst Magazines' general manager John Loughlin says there are four factors necessary for a magazine launch: "a passionate audience of scale"; a "broad and diverse advertising base"; a concept that fits in well with Hearst's content portfolio and solid partnerships.
After these categories are identified, two more axis are defined: closely breaking down HGTV's current television viewers (size and viewing behaviors fall under this category), and identifying the "white space" between possible title competitors. "The category has a number of entrants: A hybrid between new women's and lifestyle, and it has a shelter edge to it. The competition is stiff," says Loughlin.
Unlike many smaller scale start-ups from 2011, "We are always able to fund our portion of development investment from our free cash flow (profits generated by our other titles and businesses)," Loughlin tells Folio:. "We typically look for at least a 20-year term when we commit to build a new magazine franchise, given the overall scale of investment and 'opportunity cost' of focusing resources on 'Project A' versus developing a 'Project B'."
Once an editorial concept is solidified, a fully printed prototype magazine running between 80 to 100 pages is produced. The magazine is sent to focus groups across the country, and both analog and digital subscription direct marketing techniques are used. 700 subscription variables were also tested, including packaging and pricing. Loughlin says the introductory sub price of $15.00 was accepted among the majority of consumers, and will most likely be applied if Hearst decides to officially launch the title.
Testing on the Newsstand a Key Tactic
Hearst also extensively tested the title on the newsstands. "We were able to secure front-end distribution in the form of test sales, as well as mainline distribution, and put mechanisms in place so we can not only measure ultimate sales, but also gain day-to-day data," says Loughlin.
The company says the results exceeded their expectations (similar audience metrics were put in place during the test phases of Food Network Magazine). At time of print, 257,000 subscriptions and 225,000 single copies of HGTV Magazine were sold.
A core of 3 to 4 staffers was initially put in place for the magazine, including former Coastal Living editor Sara Petersen. Currently, the magazine is looking for more, as Hearst looks for editorial staff and to build a publishing team.
Progress So Far
The first test issue of HGTV Magazine generated 257,000 subscriptions and 225,000 single copy sales. A second test issue is planned for January 2012, and fingers are crossed for a success equal to or better than that of Hearst's other Scripps spinoff, Food Network Magazine, which just raised its rate base for the seventh time to 1.45 million.
Meet the Author
---