Hemmings Motors Along

696-page antique car parts directory thicker than ever—but how?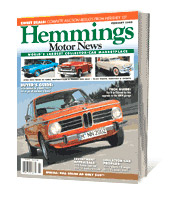 I was idling around the newsstand at lunch and was surprised to see the December issue of Hemmings Motor News sitting there, weighing in at 696 pages. Hemmings is basically an antique car and car parts directory. Looking for an antenna for that 1964 Corvair? Find it in Hemmings.
The curious thing is why the print publication is still thick as a phone book. If ever there was a publication to become disintermediated by the Internet, this is it. Hemmings is a place where you go to find things you are looking for, not for random discovery. And, in fact, it has a robust Web site, claiming to be the "world's most comprehensive and informative web site of its kind, featuring over 30,000 searchable cars-for-sale ads, 10,000 Car Club listings," etc.
Maybe it's because car collectors are old and don't use the internet. Nope, we know that all age groups are active users of the Web. Maybe the Hemmings brand is so strong that they can REQUIRE classified advertisers to use print if they want to advertise online. Not so—you can advertise online exclusively. I just don't get it. Why is their print edition so robust? Any ideas?
Leave 'em in the comments section below.
Meet the Author
---