HemAware

Best Use of Photography, Association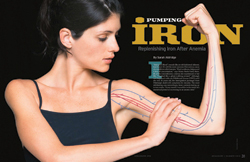 The writer of the original article, "Pumping Iron," inspired the treatment of a stock photograph that eventually landed HemAware an Ozzie for Best Use of Photography, Association, according to managing editor Melanie Padgett Powers.
"The writer, who is also one of the editors for the National Hemophilia Foundation, used the title 'Pumping Iron' on her first draft, and we really just went with that," Powers explains. "Since the story is all about replenishing your body's iron if you have anemia, we really wanted to go with the double meaning of the words 'pumping iron,' and really go with an image that looked strong—something that looked like the subject was lifting weights and showing their muscles."
HemAware's art director found an appropriate stock photo, and then she actually drew the red and blue veins on the woman's arm in the image. "We used a stock picture of a really fit-looking woman, flexing her muscle and looking at her arm," says Powers. "After the art director enhanced the picture, we really played with the typography, with the word 'Iron' looking strong and bold, to reinforce what we did with the photography."  
Because the article began with the words "Iron poor blood," HemAware had Pumping Iron as the title and the art director was able to use a large drop cap that resembled a dumbbell. "That played on the double meaning as well," says Powers.
HemAware, a quarterly magazine for the National Hemophilia Foundation, and a companion Web site, are both produced by Washington, DC-based TMG Custom Media.
Meet the Author
---