It's easy to understand what a print magazine is. When our readers sign up for a print subscription they know what they're going to get. But a "digital subscription"—with an ever-growing array of devices and platforms— is such a broad term nowadays. It can be confusing for our readers to understand what we are offering them.
If we offer the iPad edition, readers will also ask about the Android version, the Nook edition, the Kindle edition or the Google Play version. And where does that leave our beloved web-based digital edition—that link we email our readers? What version or edition do we name it so we don't confuse our readers?
We need to show our audiences and our readers that they now truly have the option to read the magazine on different platforms or devices, and that they can really read it the way they want. Below I've outlined three variations of digital editions and how we market them to our readers:
1. The Computer or Desktop Browser Version: In my marketing efforts we've re-named this digital version the "web-based digital edition." The distinction was necessary because people signing up for digital-only versions or a print and digital combo were under the impression that they were also signing up for the iPad/iPhone edition.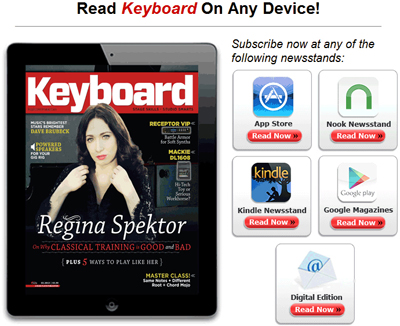 2. iPad/iPhone: When marketing the Apple digital edition, we are making sure we let our readers know that they can read the magazine on both the iPad and iPhone device. It's one subscription as long as they use one Apple ID on both devices.

3. Nook/Kindle/Google Play: These three digital platforms are interesting to market. A person who has an Apple device can easily download the Nook, Kindle or Google Play application and can log into their account and access our magazines. Or if they have one of these devices they can also find our magazines there.
However, when we marketed these digital subscriptions individually, we felt we were confusing our audience and many times not offering them the platform that they wanted. To help make it clear for them, we combined all the digital subscription offers into one message, as the image above shows. This type of combined promotion seemed to be the most effective way to let our readers know where to find us and how they can subscribe.
The important thing to keep in mind with all of these platforms is pricing. If you have one rate on one platform and a lower rate on another, the customer will notice.
As you can see, this is just the start. Next time I'll talk about quality control and customer service issues regarding digital editions, and how we handle them.
If you have any questions feel free to email me at mestevez@nbmedia.com.
Until then.