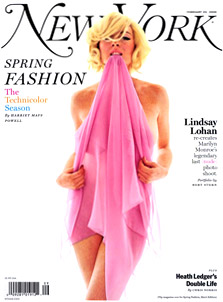 As the consumer magazine world braces for the release of the Audit Bureau of Circulations' much-anticipated Fas-Fax newsstand figures on Monday (early returns indicate it's gonna be ugly), publishers with actual good news to report are already touting it. Take, for instance, New York magazine, which is reporting a 3.4 percent increase in single copy sales for the first half of 2008 over first half 2007.
And this, they point out, with a 20 percent cover price increase (to an average of $4.16, with regular issues at $3.99 from $2.99 and double or perfect-bound issues at $4.99 from $3.99). Total circulation, increased by about one percentage point to 433,289.
A few issues in particular helped New York's newsstand cause. Its February 25 issue, featuring a nude Lindsay Lohan-as-Marilyn Monroe photo shoot, sold 43,791 single copies, more than any other cover during the first half and nearly double its average of 22,572 single copies sold. New York's Eliot Spitzer cover, featuring the disgraced governor with the word "BRAIN" and a simple arrow pointing to his crotch, sold 34,426 single copies, second most during the first six months of '08.