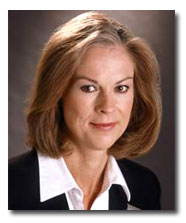 UPDATE: Playboy Open to Sale Talks
Christie Hefner announced today her plans to step down as chairman and CEO of Playboy Enterprises.
Hefner will stay on as CEO through January 31, 2009, the company said in a statement. Jerome Kern, a member of its board of directors, will serve as interim chairperson while the company searches for a replacement.
"Playboy Enterprises Inc. has literally and figuratively been my life and career for more than 30 years," Hefner said in a statement. "Last month marked my 20th anniversary as CEO; just as this country is embracing change in the form of new leadership, I have decided that now is the time to make changes in my own life as well."
Hefner steps down from the top executive post during a challenging time for Playboy. The company—which eliminated 80 staffers company-wide in October  in a cost-cutting effort—reported a net loss of $10.4 million through the first nine months, compared to a $6 million net income during the same period last year. For the third quarter, the company reported a $5.2 million net loss, down from a gain of $2.6 million during the same period last year.
Year-to-date, revenue was down more than 12 percent to $222.3 million. Playboy attributed the overall losses, in part, to a $6.3 million restructuring charge. Excluding the charges, the company reported a net income of $1.1 million.
The company said it expects ad revenue in the publishing division to be down 17 percent in the fourth quarter.