Hefner: 'I'm Buying, Not Selling'

Playboy founder reaffirms that he isn't interested in selling his stake.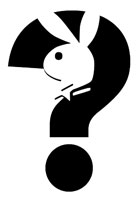 UPDATE: Penthouse Owner Offers $210M for Playboy
Apparently Hugh Hefner's announcement this week that he wants to take Playboy Enterprises private—and the media swarm that followed—has the Playboy founder on the defensive. If not about the offer itself or if it is substantially below the fair market value for the company, then definitely about other parties stepping forward to place their own bids.
Shortly after Hefner announced his proposal to purchase all of Playboy's outstanding shares of Class A and Class B common stock for $5.50 per share (he already owns 69.5 percent of its Class A and 27.7 of its Class B stock), I spoke with Marc Bell, CEO of Penthouse magazine owner FriendFinder Networks. He didn't offer up many details but said he expected FriendFinder to submit a bid for Playboy "within the next few days." (An e-mail came in as I was writing this saying FriendFinder will go public with its proposal for Playboy at 12:30 p.m. on Thursday. It has retained Imperial Capital, LLC as financial advisor for the process.)
According to Hefner, Bell shouldn't even bother. In a second announcement, which hit news wires Tuesday afternoon, Hefner reasserted that he believes his offer "is in the best interest of the company." Over Twitter, he (or whoever tweets for him, under his handle) also reaffirmed that he is not interested in any sale or merger of PEI, selling his shares to any third party or entering into discussions with any other financial sponsor. Here are his tweets, in chronological order:
@hughhefner: Penthouse is just looking for publicity. They're not in the picture.

@hughhefner: My interest in taking Playboy private is prompting some crazy rumors. Playboy isn't in play. I'm buying, not selling.

@hughhefner: I'm concerned about our minority stock holders & the future of the magazine & the brand.

@hughhefner: I support my management team & think we're on the road to recovery. Going private should help.
Hef could in fact block selling Playboy to other potential buyers. If bids do roll in at a value greater than Hef's then the company's board of directors would most likely put pressure on him. But would it make a difference? If he's as steadfast as he says he is, any other deal wouldn't go through without his consent to sell his stake.
Here's the entire text of Hefner's proposal:
July 8, 2010

Board of Directors
Playboy Enterprises, Inc.
680 North Lake Shore Drive
Chicago, IL 60611

Attention: David Chemerow

Gentlemen:

I am writing to you to inform you that I am interested in negotiating a transaction with our company to acquire all of the outstanding shares of Class A and Class B Common Stock of PEI that I do not currently beneficially own. In this transaction, I intend to partner with Rizvi Traverse Management LLC ("Rizvi Traverse"). Rizvi Traverse is a private equity firm with a special focus on the entertainment and media sector. Rizvi Traverse currently owns or has investments in International Creative Management, Summit Entertainment, Newbridge Capital and Clearscope Partners. Rizvi Traverse can bring significant resources to our company to help accelerate its growth.

Given my many relationships with our company – founder, editor-in-chief, chief creative officer, holder of 69.5% of the outstanding voting Class A common stock and 33.7% of the total outstanding shares of capital stock, I expect that a Special Committee of the Board of Directors will be formed to consider this transaction. I look forward to working with the Special Committee to move this transaction forward as expeditiously as possible.

I believe this proposal is in the best interests of our company and its minority stockholders. The proposal provides an excellent opportunity for the minority stockholders of PEI to realize liquidity for their shares at a significant premium to market values. I believe the proposal will also reinvigorate the company I founded and create a lasting legacy for the Playboy brand, a brand we have all worked hard to establish as one of the most widely recognized and popular brands in the world.

Please be advised that out of my concerns for amongst other matters the Playboy brand, the editorial direction of the magazine and our company's legacy, I am not interested in any sale or merger of the Company, selling my shares to any third party or entering into discussions with any other financial sponsor for a transaction of the nature proposed in this letter.

I expect continuity of senior management through and following the transactions contemplated by my proposal. I am open to participation by continuing members of senior management in the new entity I and Rizvi Traverse propose to form to complete the acquisition ("NewCo").

Based upon conversations with Rizvi Traverse which are in turn informed by Rizvi Traverse's due diligence to date, I am in a position to propose that NewCo would acquire all of the outstanding shares of common stock not currently owned by me for $5.50 per share in cash. In accordance with the Company's Certificate of Incorporation, the same per share price will paid to Class A and Class B common stockholders. The proposed per share consideration represents a 39.9% premium over the closing price of the Class B common stock on July 7 and premiums of 43.4% and 80.9% over the average closing prices for the last 30 days and one year,respectively.

Rizvi Traverse informs me that it has contacted major lenders regarding potential financing for this transaction and Rizvi Traverse is highly confident that ample financial resources will be available to complete this transaction. I and Rizvi Traverse contemplate that the definitive agreements will not contain a financing contingency.

This confidential indication of interest is non-binding and no agreement, arrangement or understanding between or among me, Rizvi Traverse or Playboy Enterprises, Inc. has been or will be created until such time as definitive documentation has been executed and delivered by all appropriate parties, and any proposed agreement, arrangement or understanding has been approved by the Special Committee and the Board of Directors, as appropriate. In that regard, you should be aware that while I have engaged in discussions with RizviTraverse in connection with this proposal, I have not entered into any agreement, arrangement or understanding with Rizvi Traverse concerning the transactions proposed in this letter.

This indication of interest and its contents are confidential, and should not be disclosed to any third parties, except to the extent that legal counsel to the Company advises the Board of Directors in writing that disclosure is required by applicable law or disclosure is made on a confidential basis to the Company's legal and financial advisors.

I and my legal and financial advisors at Munger, Tolles & Olson LLP and Moelis & Company, LLC look forward to the earliest possible opportunity to discuss with the Special Committee and its legal and financial advisors the path to complete a mutually acceptable transaction.

Very truly yours,

Hugh M. Hefner
Meet the Author
---