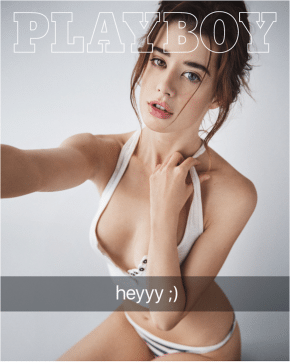 Just weeks after the debut of its revamped, nudity-free print edition, Playboy is up for sale.
Citing people familiar with the situation, The Wall Street Journal reports today that Playboy Enterprises' principle stakeholders, founder Hugh Hefner and private equity firm Rizvi Traverse Management, are exploring a sale that those same sources—who may or may not be within the company—speculate could bring in more than $500 million at auction.
The move comes in the midst of an identity crisis for the 62-year-old men's lifestyle brand. Average circulation has slid from over three million in 2005 to just over 750,000 last year, according to the Alliance for Audited Media (AAM).
In October, Playboy announced the decision to cut nudity from its print edition, repeating a similar move it had made on its website that dropped the average age of its audience considerably and increased traffic by 400 percent.
"You're now one click away from every sex act imaginable for free," Playboy CEO, Scott Flanders, who took over for Hefner's daughter Christie in 2009, told the New York Times. "It's just passé at this juncture."
The revamped print edition, featuring an increased trim size and heavier paper stock, debuted in March with a Snapchat-inspired cover—a not-so-subtle attempt at catching the eyes of male millennials.
The Wall Street Journal reports that Playboy earned $38 million in revenue from media last year, and another $55 million through licensing agreements allowing third parties to use the brand's recognizable bunny logo. The company also owns the famous Playboy Mansion in Los Angeles, which was put up for sale for $200 million last week.
The shift to a potential sale marks the continuation of a difficult few months for men's magazines. 2015 saw the end of both Condé Nast's Details and Bauer's FHM, and Maxim has been in a state of near-constant flux since being purchased by entrepeneur Sardar Biglari in 2014.
Investment bank Moelis & Co. is advising Playboy on the potential sale, according to WSJ.