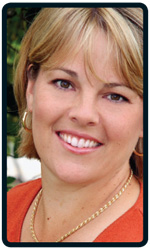 Holmes has led an "audience-first" strategy as Technology Review rolls out its multiplatform expansion, including an integrated database, a digital edition, an app, and a retooled paywall.
As publishers serve up their content into an ever-growing multi-platform ideal, you don't often think about what goes on behind the scenes to determine how an audience will interact with it. At Technology Review, the past year has seen some significant developments in the brand's offerings. As TR branched out into a revamped digital edition, app, events and a re-engineered paywall for a redesigned Web site, SVP of audience development Heather Holmes has been making sure the various strategies are supported by the right audience insights and infrastructure.
The popularity of TR's photo essays online led to the production of the brand's first-ever SIP, which repurposed the photos in a magazine with a 52-week on-sale period and $9.95 cover price. So far, the issue has achieved a 60 percent sell-through and spawned a second, science-fiction themed SIP due later this year.
TR's free app, which functions primarily as a newsfeed, camped out in the top 10 tech-related downloads for about six months. The app now achieves more than 100,000 page views per month and has been downloaded 23,000 times. It was also one of the first to feature a working subscription option.
TR also redesigned its Web site (with Holmes on the senior planning team). The redesign included a revamped paywall, which allows for per-article purchases, a five-pack of credits or full subscription offers, which include the digital edition. As a result of the new paywall bundles, digital circ has increased by 70 percent. The per-story and credit packs have also opened up a nominal, "but not negligible," revenue stream in the five figures, adds Holmes.
In the meantime, Holmes was overseeing the build-out of a fully centralized database that is capable of collecting and organizing customer data across the brand's many platforms. Plus, Holmes can now automate promotions online according to what products a user has or has not purchased. "We're also able to defend our ratebase in a much higher detail and capacity to our advertisers," she adds.

VITAL STATS: Holmes has helped spearhead a multi-platform brand expansion, which helped achieve a 70 percent increase in digital subscriptions.