Heart & Soul Magazine Sold to Group of Investors

Plans to expand focus from African-American women to "all women of color."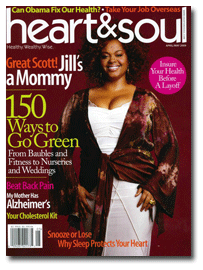 Heart & Soul, an 18-year old wellness magazine historically serving African-American women, has been sold by independent owner Edwin V. Avent to a group of investors known as Brown Curry Detry Taylor & Associates, LLC (BCDT) who plan to expand the magazine's focus to include "all women of color," including Latina and Asian populations.
"What we're really concerned about and have been concerned about for a long time is the health disparity between Caucasian women and women of color," says George Curry, one of the owners, who will take on the role of executive vice president of content. "At a time when this country is growing increasingly diverse, we can play a role in closing these health gaps by bringing these disparate groups together for good and to provide information to help improve their lifestyles."
To aid in this broadening of content, former Latina magazine editor-in-chief Sandra Guzman has been hired as editor, and the new owners will "push for a broad base of writers, new voices from different communities," says Curry, as the bi-monthly magazine looks to expand its current 300,000 circulation. The publication's current executive editor and creative director will remain on staff, and the team will work to relaunch a more interactive website in the coming months.

Heart & Soul, first published in 1993 as a joint venture between founder Reginald Ware and Rodale Press, was owned by television network BET and former Honey and Savoy publisher Vanguarde Media before Avent purchased it in 2004.
All of the new owners have former ties to the magazine: president and CEO Clarence Brown managed the title under BET's ownership, Curry was editor of its former sister publication Emerge, and Patrick Detry and Pamela Taylor—executive vice presidents of advertising and marketing, respectively—worked as consultants to Avent.
Meet the Author
---