---
"I think the industry wants to see some winning, instead of losing."
That's part of the reason, explains Vicci Rose, Us Weekly's longtime VP and chief revenue officer, for the relative seamlessness of the 40-year-old magazine's transition from Wenner Media to American Media Inc., which began a year ago.
"There have been too many leading properties that have really solid and intense audiences, who, because of advertiser withdrawal, can't survive," Rose tells Folio:. "We don't have an audience problem in our business; we have an advertiser perception problem."
With magazine publishers facing down numerous and well-documented challenges in both print and digital advertising, winning has become a matter of adapting to offer new solutions to clients—perhaps none more promising than branded content.
Hearst Magazines' branded content division, formalized under the leadership of Laura Kalehoff in 2015 and renamed HearstMade a year later, operates across the full breadth of the company's portfolio—from Cosmopolitan and ELLE to Esquire and Men's Health—for clients as varied as Coca-Cola, The Home Depot, and Prada.
Lee Sosin, SVP of Hearst Magazines Digital Media, says the name HearstMade reflects the fact that content partnerships with clients is everyone's business, and that the quality of such content needs to be on-par with that of editorial.
"Almost everyone who produces [branded] content for us has experience producing editorial content as well," Sosin tells Folio:. "To create content in partnership with an advertising client, we can't just hire amazing creators. We have to hire amazing creators who can work within compressed timelines, change direction quickly, serve multiple masters, and be great client-facing collaborators on set."
This approach, Sosin says, drives Hearst's audiences not just to engage with branded content, but to share it with their peers—something that meets clients' objectives not just in catalyzing purchases or brand awareness but also providing them with powerful market insights.
For example, Sosin cites a recent campaign with an unnamed national retailer that drove a 23-percent increase in brand opinion, a 20-percent lift in purchase intent, and 20,000 store visits.
"What made this campaign successful was that we started with our client's business goals and worked toward them," he continues. "We determined a distribution strategy, then crafted a creative approach that channeled the voices of our brands, the authority of our editors and the depth of our audience data."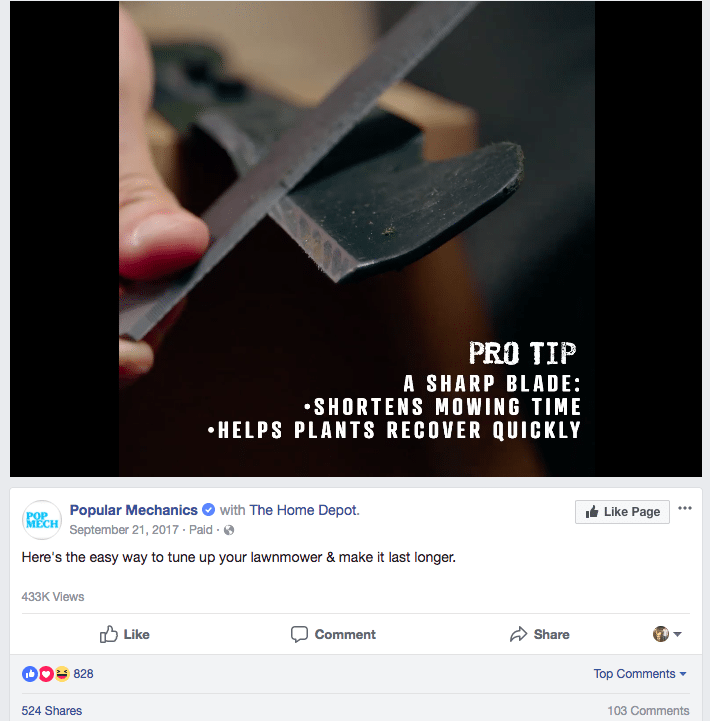 HearstMade campaigns often involve a multitude of distribution channels, and no two tend to be identical. A 2017 campaign for Smith and Carrera sunglasses involved custom Instagram posts and co-branded stories that ran across Cosmopolitan, Esquire, ELLE, and Popular Mechanics, but also capitalized on Hearst's existing assets by placing the client's ads around 34 "chart-topping" stories that aligned with Smith and Carrera's core values.
Another, for The Home Depot, involved Roy Berendsohn, senior home editor of Popular Mechanics and author of the "Ask Roy" column, starring in a trio of branded how-to videos that prominently featured products available at The Home Depot—all filmed in a custom-built workshop/content studio on Hearst Tower's 23rd floor.
Others feature ELLE editors and influencers being "refreshingly honest" about their ideal Saturdays on the brand's Instagram account (Coca-Cola's Honest Tea), or search-optimized custom recipes from Delish that integrate Tyson chicken products.
"Each social platform has unique tools and capabilities, as well as distinct audience attributes and behaviors. We use all of this to inform our creative strategy and achieve the goals for our clients," adds Sosin.
Rose says Us Weekly's partnership with Nutrish, Rachael Ray's line of pet foods, began modestly four years ago, but that the brand's investment in the partnership has since increased five-fold.
Key to that retention—not just of Nutrish but each of Us Weekly's 15-some branded content clients—is a combination of scale and the loyalty of Us's avid readers.
"We have the scale to be meaningful to these large packaged goods companies, but more importantly, Us Weekly's audience comes daily, multiple times a day," Rose says.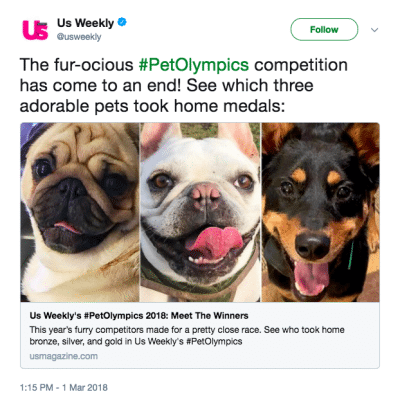 A hallmark of this year's partnership with Nutrish is an integration with a dedicated Olympic vertical on UsMagazine.com, including a sponsored #PetOlympics contest, which invited the brand's social media followers to vote for their favorite furry contestants. In the first two weeks of the campaign, the contest garnered more than 700,000 votes, while the Nutrish-sponsored Olympic vertical attracted 3.5 million page views.
"We're all competing for the same dollars today, and there's so much good quality out there. I think what attracts our particular partners is the fact that they recognize that Us Weekly has a strong voice" adds Rose, citing the fact that the magazine still consistently sells just under two-million copies each week in print as a manifestation of its enduring authority.
But it's not enough to amass a large audience and target them with content they'll engage with—no simple task in and of itself—when the content needs to serve the additional purpose of meeting its sponsors' objectives.
Rose describes Us Weekly's branded content operation, under both Wenner and AMI, as "unbureaucratic," allowing the team to adapt to clients' needs efficiently and effectively.
At the same time, brands can't alienate readers or attempt to conceal the fact that the content is indeed sponsored, she says. It has to be symbiotic to editorial, but not the same. Relevant and supportive, but clearly different.
Rather than a boiler-plate, "Sponsored content" tag, HearstMade labels such content as, for example, "From Popular Mechanics for The Home Depot."
"We developed that language very carefully, because we always want to have the maximum transparency with the consumer," says Sosin. "If we were to just say 'sponsored by ___,' the consumer might think that the content was actually made by the advertiser. We know that our brand authority matters to our audiences, so we want to make sure they see that the content was, in fact, created by the Hearst brand that they love and trust."
---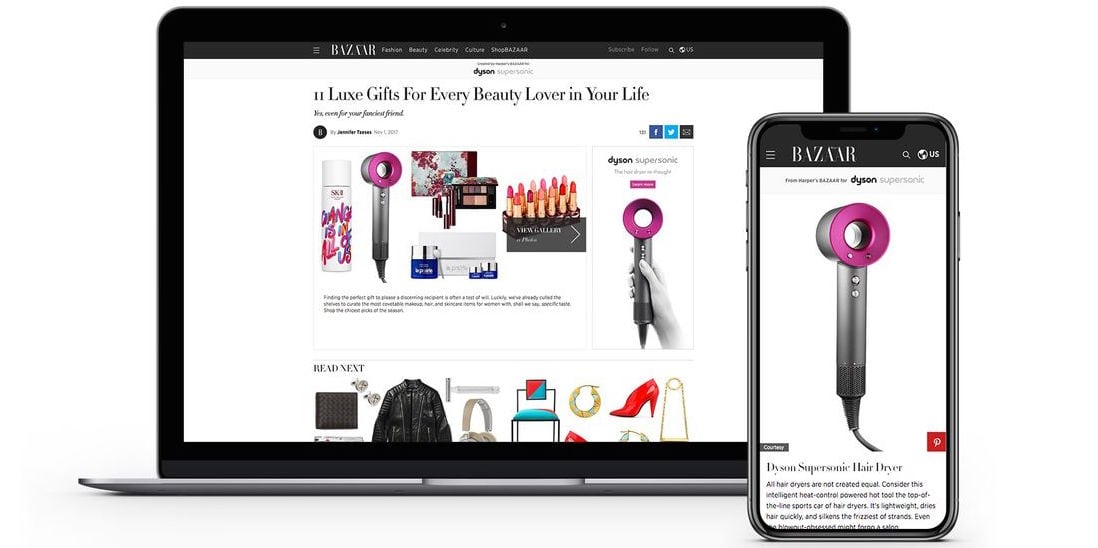 ---
Rose says maintaining that integrity hasn't always been popular with brand marketers, but that in the long run, such transparency fosters the type of trust and engagement with that advertisers ultimately covet.
"Today, everyone understands that content has to serve the viewer first and can't be crammed arbitrarily with product features and benefits," adds Sosin.
An emerging element common to both HearstMade and Us Weekly's branded content campaigns is a gravitation toward the use of celebrity influencers to help promote a client's message—something Rose says gives Us Weekly, whose entire brand identity is lifestyle through the lens of celebrity, a particular leg-up on the competition.
"Nobody has a larger Instagram following than Selena Gomez," she adds.
Over the past year, Hearst has built out a dedicated talent team who works with influencers on a daily basis.
"What's new is that clients are asking to tap into this team directly and have us manage their own influencer programs," says Sosin. "And it's no wonder. Dealing with contracts and agents and managers can be challenging, as is managing the output and guaranteeing results. We can use our infrastructure to help clients get what they need in a more seamless way."
---

---
Similarly increasing in importance is accountability. It's not enough to create a great campaign; the campaign has to drive measured business outcomes for the client.
"More and more campaigns are about engagement metrics," says Rose. "We promote very heavily the fact that this is an audience that's coming to Us Weekly to engage with content, but that we also have a very robust social presence. For the number of posts we put out there, we often have three- and four-times the level of engagement per post against our competition."
That represents a progression, Rose says, because while clients have always cared about activity and engagement with branded content, they didn't demand empirical measurement of it the way they do now.
"That obsession with business results drives everything else, from the platforms we publish to and the formats we use, to the creative strategy that produces the content ideas," adds Sosin.
In the search for new platforms or formats, Rose says Us Weekly is experimenting with podcasts, and since joining AMI is also planning upcoming integrations with an OTT streaming channel and augmented reality.
"If it's available, we are chasing it to see how we can make it our own," she says. "But our clients do count on Us Weekly for a level-headed approach to this. We require a big enough investment that we have calculated risk, but our clients are not going to throw a lot of money at something that has no track record for us to be able to anticipate a successful outcome."