Hearst's Jumpstart Auto Group Partners with Dealer.com

Deal brings in local car dealership display advertising to Jumpstart sites.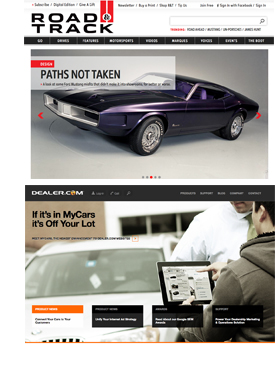 Hearst's Jumpstart Automotive Group, which contains the Car and Driver, Road & Track and JD Power Autos brands, among others, has partnered with Dealer.com to allow the site's audience of car dealerships to market to Hearst's automotive audience.
Dealer.com is essentially a digital marketing arm and website developer for car dealerships across the U.S. The outfit runs digital marketing programs for 12,000 dealerships and its network of sites attracts about 36 million unique visitors per month.
Under terms of the agreement, Dealer.com will be able to sell tier 3 display advertising for local dealerships on Jumpstart's network of sites, which attracts about 25 million monthly uniques.
"We're seeing a rapid increase in dealer display business, so partnering with Dealer.com, the top provider of dealer marketing and operations software solutions, is an obvious fit for us," says Nick Matarazzo, chief executive officer of the Jumpstart Automotive Group, in a statement.
Meet the Author
---