Hearst Tests App Business

Publisher launches company that produces topic-specific, downloadable apps.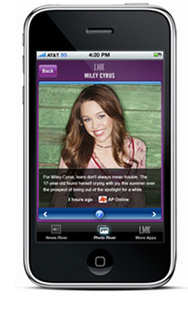 Hearst Corp. has created a new opportunity for itself by combining popular topics like celebrities and sports with the growing interest in mobile applications. The big newspaper and magazine publisher announced the creation of LMK ("Let Me Know"), a digital company incubated by Hearst that says it curates, designs and delivers content on popular topics over Apple's iPhone.
Right now, LMK offers nearly 70 topic-specific apps dedicated to subjects like pop music star Lady Gaga, model Heidi Klum, singer/actress Miley Cyrus and the New York Yankees baseball team. Each app provides "curated news" and a photo stream that is continuously updated from third party sources. Hearst said it plans to add specific product enhancements over the coming months that will expand LMK's delivery experience.
Hearst said the apps are priced starting at $0.99 an are available for download to the iPhone and iPod Touch at the Apple App Store and LMK.com.
According to Michael Gutkowski, president of LMK, the new service is "unprecedented." "We saw an interesting market opportunity to break through the clutter of Internet search results and build digital products that curate, package and deliver the most authoritative content on subjects that matter to consumers," he told FOLIO:.
It took Hearst six weeks to build the initial platform for LMK and the company has spent additional time tweaking it to support its mobile technology. The LMK team is currently made up of five full-time staffers as well as several contractors, Gutkowski said.
In addition to the sale of apps, LMK sees opportunities in the future to make the apps available to marketers to sponsor when an app is relevant to their brand, Hearst said.
Meet the Author
---