Hearst Takes Digital Ad Sales Global

New group formed to handle one-stop-shopping of international digital ad buys.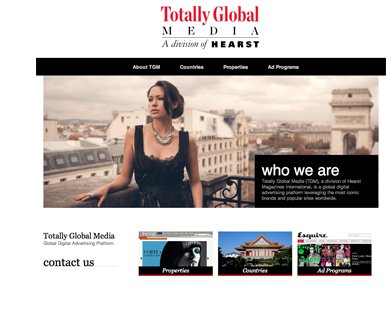 Hearst Magazines this week announced a new advertising sales group called Totally Global Media that will be a central hub for the development and sales of custom digital ad campaigns across international editions of Hearst magazine brands.
The group essentially formalizes a network of Hearst magazine websites and their international counterparts. The entire platform, says the company, accounts for about 200 million monthly uniques in more than 20 countries.
The idea for Totally Global Media originated with Hearst Magazines International CEO Duncan Edwards, says Gina Garrubbo, senior vice president of TGM. "We have a group here that leverages print sales across the titles and Duncan said it's amazing that we have Cosmo sites around the world, but if an advertiser wanted to buy across those sites we don't have an infrastructure for it," she says.
From there, Garrubbo began approaching the various licensees and publishing partners, including Burda Media, Televisa Publishing + Digtial adn Groupe Marie Claire, to start building the network.
TGM basically acts as a normal, multiplatform ad sales operation, but with an international scale. "If I have a brand in London looking to do a buy across europe they would come to me and say they are trying to reach a young female consumer, for example. We would then create a digital marketing concept for them and build the social tie-ins and so on," says Garrubbo.
At that point Garrubbo begins contacting all the appropriate international publishing partners to relate the details of the campaign—platforms, ad formats, social elements and so on—and to collect pricing.
"Our group does all the production, all the hosting and all the ad serving. We do one insertion order and one invoice for the brand," she adds.
Meet the Author
---