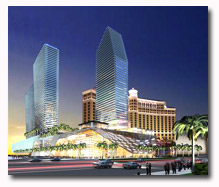 Hearst Corporation is suing developers of the Cosmopolitan Resort Casino, scheduled to open in Las Vegas in 2010, for using the same name as the company's well-known women's magazine.
The $500,000 trademark infringement lawsuit, filed today in U.S. District Court in New York, states in its complaint that use of the name by the defendants—Cosmo Senior Borrower LLC and 3700 Associates LLC—"demonstrates an intentional, willful and bad faith intent to trade on the good will of HCI's [Hearst Communications Inc.'s] registered marks and to cause confusion, deception and mistake in the minds of customers and potential customers to the great and irreparable injury of HCI."
Hearst has asked for a jury trial, punitive damages of at least $500,000 and to recover triple profits as well as its costs and attorneys' fees.