Hearst Shutters O at Home

Oprah's quarterly spin-off squashed; editor shifted to Country Living.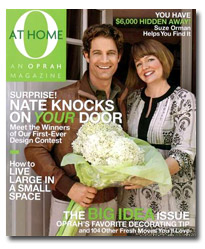 Hearst Friday announced that it will shutter O at Home, a quarterly spin-off of O, The Oprah Magazine. The magazine's winter issue, on newsstands November 25, will be its last.
Editor-in-chief Sarah Gray Miller, who joined Hearst last year, will become editor of Country Living, replacing Nancy Soriano, who left the company last month.
It was unclear home many O at Home staffers would be laid off. Several will be joining Miller at Country Living: Katy McColl (executive editor); Sheri Geller (design director); Natalie Warady (style and market director); and Jourdan Crouch (editorial assistant).
Miller was the founding editor of Budget Living and the launch editor of Organic Style.
O at Home, which launched in 2004, isn't tracked by the Publishers Information Bureau. But flagship O's ad pages fell 8 percent through the first nine months of 2008. Estimated ad revenue dropped 6.6 percent to $196.1 million.
Earlier this week, Hearst confirmed that layoffs had been made company-wide, less than two weeks after saying it was exploring cost-cutting measures. Exactly how many employees have been laid off was not immediately clear. A spokesperson declined to comment on the terminations other than to say they were made as part of Hearst's effort to "streamline" its businesses.
That streamlining includes the closing of magazines. In October, Hearst shuttered CosmoGirl.
Meet the Author
---