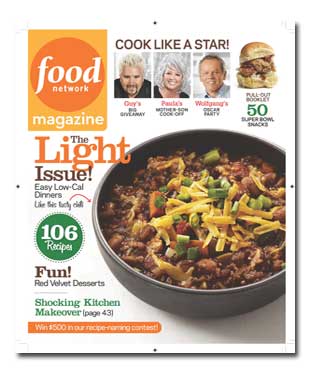 Food Network Magazine seems to be cooking up excitement with readers—Hearst Magazines announced Wednesday that the publication will increase its ratebase by 50,000 up to 1.45 million beginning this summer.
This is the 7th ratebase increase for the title since it launched in 2009. The most recent increase is taking effect for the January/February 2012 issue, bringing the title up to 1.4 million. Test issues of the magazine were first contemplated back in the fall of 2008 with an initial circulation pool of 300,000 issues. In August 2011 Hearst announced the January/February issue of the magazine would reach 1.4 million, up from 1.3 million at the time, and now surpassing that initial figure by 50,000 for the July/August 2012 issue.
Shortly after the publication debuted it was named one of the most notable launches of 2009 and the publisher was able to triple its circulation by 2010. The magazine now expects circulation for the second half of 2011 to be about 21 percent above ratebase.
According to its most recent filings with the Audit Bureau of Circulations for the period ending June 30, 2011, the publication had a total paid and verified circulation of 1,472,607, with single copies (print and digital) falling at almost 340,000.
Single-copy sales for the second half of 2011 are projected at an increase of 15 percent over the second half of 2010, according to a news release from Hearst.
"We've shown incredible strength on the newsstand and in our overall circulation at a time when every category has been challenged," says Vicki Wellington, vice president, publisher and chief revenue officer for Food Network Magazine, according to a prepared statement. "Food Network Magazine has proven to be a leader in all things food and entertainment, and we continue to enjoy significant growth."