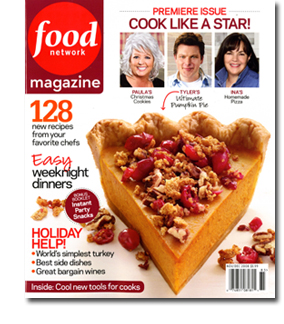 While 2009 may be remembered more for the number (and quality) of magazines that closed, it was also an active year for launches, with 752 new titles debuting between September 2008 and September 2009, according to Samir "Mr. Magazine" Husni, director of the Magazine Innovation Center at the University of Mississippi.
Of those 752 new magazines, Husni has identified the 15 most notable launches of the past year. His criteria include five key questions:
■ How much publicity did the magazine generate?
■ How relevant was the magazine to the intended market?
■ Was the magazine notably diversified and specialized?
■ How innovative were the magazines?
■ Was the magazine so bizarre it had to be included?
"Since the industry seemingly came to a crashing halt in September 2008, we are starting to see more and more evidence that the American publishing model of the past is dead and that our industry has to innovate to survive," said Husni. "Many of these notable launches are witnesses to that."
Below, Husni makes the case for his 15 Most Notable launches of 2009:
The Most Notable Launch of the Year: Food Network Magazine (November '08, Hearst): "The Most Notable launch this year was by far the easiest choice to make. All others were distant seconds. Food Network magazine demanded the attention and rose to the top of the pile.  A magazine born right after the major economic crash of 2008, launched with a modest circulation of 300,000, focused solely on the customers who count, the reader, rather than counting customers and soared to new levels of circulation in an atmosphere of continuous declines in circulation. No other magazine launch can match what Food Network did this last year.  In such a short period of time the magazine circulation jumped to over one million. It took Gourmet 74 years to reach close to a million circulation. When I asked publisher Vicki Wellington where she expects the magazine to be in five years, she jokingly said, "achieving world domination."
Afar (September '09; Afar Media LLC): "For as long as photography has been an active part of print, travel magazines have been making an impact on newsstands. With its new twist on an old favorite, Afar has the chance to create a new niche in the travel category. It is definitely not your father's travel magazine."
Blurt (March '09; Blurt): "Here is another music magazine that ignores Top 40s and tries to tip the scales for lesser-known and independent groups. The day that folks will stop practicing in garages and launching music bands via You Tube and other social networks sites, will be the day that music magazines aimed at the underground music groups will cease to exist."
Cesar's Way (September '09; IMG): "Talk about a great American story. Here is a man who came to the United States in 1990 and didn't know a single English word. Fast-forward two decades and he is a household name with anyone who owns a pet. This is just another magazine that needed to extend its brand from television to print to preach the message of the 'dog whisperer' across ink and paper the same it does on the pixels of the screen."
Disney 23 (March '09; Disney): "Membership pays. Here is a magazine that knows its audience well enough to produce content exclusively for the huge Disney fans. In fact, it is so exclusive, that the fans have to shed $15.95 for every single issue. That cover price isn't an issue because D23 readers know membership comes with a price and of course a lot of benefits."

Fresh Home (February '09; Reader's Digest Association): "Fresh Home is an example of using good ideas to launch quality magazines in a difficult economy. The Reader's Digest network overseas had a wealth of information just ripe for repurposing to better fit the American market. Perhaps this is the future of the industry, or maybe it's just a cheaper way to have content. Time will tell, but for right now, this one is worth a look."
 
Guitar Aficionado (May '09; Future US): "Guitar Aficionado does for guitars what Cigar Aficionado did for cigars. Rather than dealing with the rules of instruction and how you can become a better musician, Guitar Aficionado deals with celebrating guitars and the relationship we have with the instrument."
 
Jacques (May '09; Luft Media Group: "The American magazine industry has dreamed for a long time of a magazine that follows the European model of tasteful, erotic titles and survives. Maybe with the ubiquity of XXX adult material online and in print, the market is finally ripe for a photo-driven, coffee table erotic publication."
 
Mine (April '09; Time Inc): "This is one of the best examples of how technology will impact the future of print. Instead of killing print, technology is actually enhancing the printed product by helping the folks at Time, Inc. create a magazine especially for readers in its content and advertising. It has been a great experiment, and I am excited to see what happens next."
Prestige (April '09; CR Media): "Against all odds, amidst the worst economy in decades, yet another magazine tries to break into the upscale market in New York City. The folks at Prestige deserve notable status simply for the courage it takes to crack into this market. In normal times it could be a magazine with great potential, but who said these are normal times?"
Ranger Rick's Just for Fun (July '09; National Wildlife Federation): "Children don't read, right? Apparently they do because new children's magazines are launched year after year. At some point magazines like Just for Fun are going to finally debunk this terrible myth. The powers that be in the magazine world would be wise to take notice of the continued success of children's magazines like Just for Fun and the other advertising free children's magazine on the market now."
Rebel Ink (May '09; Loki Publications): "How far can you dissect the category of tattoos? What used to be a specialty topic itself is now a category with more and niche titles popping up. These magazines aren't just about tattoos any more, they are about the people who have them.  If tattooing alone is not an act of rebelling, how about combining the two together for an end result Rebel2?"

Sandra Lee's Semi-Homemade (January '09; Hoffman Media): "How many celebrity chefs can you take from the Food Network and create magazines around? Apparently, as many as you want. Even with the death of Gourmet, the food category doesn't seem to be showing any slowing in growth."
And last but not least are two notable categories of magazine launches that had tremendous impact on the newsstand: one-offs and new launches dedicated to Barack Obama and Michael Jackson.
Barack Obama titles: "The power of print is ever-apparent when momentous occasions happen. With the election of the first African-American president, the newsstands saw an explosion of an almost countless number of magazines centered on Barack Obama. The sheer volume of these titles and importance of this event in history makes these magazines notable."
Michael Jackson titles: "No other medium can capture unthinkable moments as well as print. In the case of these magazines, I mean the unexpected death of an international music icon. Magazines like these may be quick "one-night stand" titles that don't bring in many return customers, but they still show the power of ink on paper."
For a complete look at Husni's 15 Most Notable Launches of the Year, and his interview with Food Network magazine publisher Vicki Wellington, look for FOLIO:'s December issue.