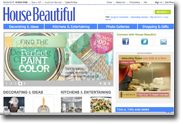 Hearst Digital Media has partnered with Pixazza Inc., in hopes to enhance user engagement with interactive images that offer e-commerce options.
The new initiative launches on Redbookmag.com and HouseBeautiful.com. Hearst will integrate Pixazza's technology into its websites in advertisements, as well as select images.
According to Pixazza's website, the company assists in "use of images as real estate for brand advertising and e-commerce."
A press statement detailing the new partnership says, "When visitors browse these sites and scroll over various images, which may include anything from a swimsuit to a sofa, a card will appear with a selection of similar or complementary products. When the visitor clicks on a particular item, she is immediately able to make a purchase."
Both technology and human tagging by product experts provide e-commerce options for users. The selected images are matched with similar products that are available for purchase from Hearst sponsors.
Glidden Paint, seen on HouseBeautiful.com with other décor-related products, is the first product available through this campaign. Kristine Welker, chief revenue officer for Hearst Magazines Digital Media, says, "At this point, the technology is being tested extensively on Redbookmag.com and HouseBeautiful.com, and we are working to identify other partners to work with across our portfolio of sites."
David Carey, president of Hearst Magazines, commented on the move to e-commerce at the Bloomberg Media Summit in March, "We have to be mindful when we look at something like the Net-A-Porter strategy. If you talk to the people at Net-A-Porter or the people at Gilt, they say they're increasingly commerce companies moving into content, and I think what you're going to find is content companies are going to move into commerce. It's a service to the reader that they can just click…and be able to buy it."