Hearst Prez: November Cosmo Sold 450,000 More Copies Than a Year Ago

Cathie Black delivers some good print news.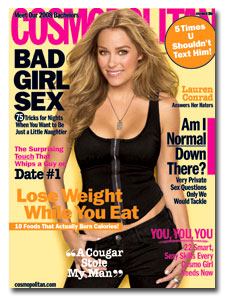 During her keynote yesterday at the WWD Media + Style Summit, Cathie Black, president of Hearst Magazines, was not only refreshingly blunt ("I think we've all stopped lying to each other" she said of the state magazine business); she was refreshingly, if cautiously, optimistic about the future of print, telling the audience (the most attractive, sweetest smelling of any magazine conference I've ever attended, by the way) that the November issue of Cosmopolitan sold some 450,000 more copies than it did a year ago.
"Why the enormous bump?" I asked Black afterwards. "I don't know," she said. "We had Lauren Conrad—"L.C."—on the cover [with the coverline "Bad Girl Sex"]. Someone told me during tough times, people want more sex, maybe?"
Perhaps. Although, as an astute FOLIO: reader points out, might it have something to do with all of those exiled CosmoGirl! readers?
About that, Black said: "It broke my heart to lay off 50 or 60 people" at CosmoGirl!, which closed in October. "Advertisers walked away from the teen market" in print, "and I think that's crazy."
Meet the Author
---