Hearst Magazines has appointed Michelle Spinale to the newly created position of vice president of consumer engagement, effective July 11. Spinale will report to Michael Clinton, president and marketing and publishing director, and senior vice president of consumer marketing Liberta Abbondante.
Spinale will be responsible for leading strategic partnerships and promotions for the company's 21 brands, both in print and digitally, as well as implementing marketing programs to drive engagement.
"Michelle has extensive experience in the entertainment industry, and a track record of developing engaging programs that drive revenue as well as audience loyalty and excitement. She will build on what we've established and find new relationships that will benefit our brands and our audience," Clinton said in a statement.
Most recently, Spinale served as principal of The Spinale Group, where she provided brand analysis, strategic planning, and integrated marketing solutions for clients across the entertainment, health and wellness, financial, and other industries. Previously, she served as vice president of marketing at Health Magazine/Health.com and vice president of marketing and brand development at Sunset Magazine/Sunset.com at Time Inc. from 2012 to 2015. Spinale has also worked extensively in film and television.
"Michelle is a creative thinker with a results-oriented attitude—the perfect combination for this role. With her background in film and television, she will bring fresh ideas and perspective to our dynamic marketing team, and we're looking forward to continuing to innovate in this space," said Abbondante in a press release.
---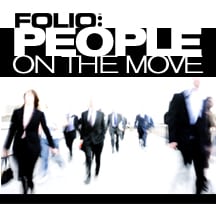 Here are the rest of this week's people on the move:
Zazie Lucke has joined Quartz as vice president of global marketing and creative services. Most recently, Lucke led the marketing teams for Upworthy Media and Bloomberg Media. Previously, she served as vice president of marketing and strategic partnerships at Atlantic Media, and as associate publisher for The Atlantic.
USA Today has announced that editor-in-chief Dave Callaway will be leaving the company on July 1 to serve as CEO of TheStreet Inc. Patty Michalski, currently managing editor for digital, will serve as interim editor-in-chief.
S.V. Date has joined The Huffington Post as a senior political reporter, where he will focus on the presidential campaign. He joins the company from National Journal, where he served as White House correspondent.
Entertainment Weekly has promoted Tim Leong to the newly created position of creative director, effective immediately. Leong will oversee the design and photo departments, and will be responsible for guiding the strategy, vision, and execution of EW's visuals across all platforms.
David Daley will be leaving Salon.com, where he served as editor-in-chief, to become CEO and publisher of the Connecticut News Project. This announcement comes in the wake of a recent shakeup at Salon, when CEO Cindy Jeffers was replaced with Jordan Hoffner.
Ken Gawrych has been named managing editor of Popular Science. Gawrych joins the company from GQ, where he served in the same role.
Paradigm Communications Group has added Ellen Ordonez as design and production specialist for Alaska Beyond Magazine and Horizon Edition Magazine. She joins the company from VIP Murfreesboro, where she served as art director.
Sam Biddle is leaving Gawker.com to join Intercept, where he will cover technology. In a staff memo, John Cook, executive editor, noted that Biddle's decision to leave came before it was announced Gawker would be sold.
Booth Moore is joining The Hollywood Reporter as senior fashion editor, overseeing content for The Hollywood Reporter and Pret-a-Reporter. She will report to Jeanie Pyun, deputy editor, and Tom Seeley, senior vice president of digital media.
Cosmopolitan has announced that Esther Perel will join the brand to write a monthly column called Close Encounters with Esther Perel. Her first piece is available in the magazine's July issue. Perel has also written the best-selling book Mating in Captivity: Unlocking Erotic Intelligence.