Hearst Magazines is 2010 Group Publisher's Ad-Page Champ

Conde Nast is second, followed by Time Inc.
With the explosion of magazine apps, social media and the resurgence of print advertising, magazine brands are showing a prominent face to their loyal and new readers and advertisers. A top 5 chart pulled together by FOLIO: sister publication min looks at the group publisher vanguards that had the highest ad page gains in 2010 versus 2009. Of the 23 magazines tracked in min (13 of which were ad-page plus) Hearst Magazines led with +1,544.03 ad pages with Conde Nast and Time Inc. close behind.
Turn to the full story here.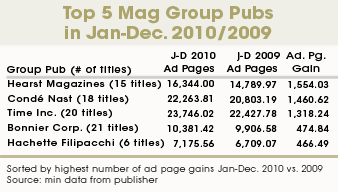 Meet the Author
---