At Condé Nast, last week began with Glamour revealing its next editor and ended with Teen Vogue editor Elaine Welteroth exiting the company. Elsewhere, F+W Media ousted nearly all of its executive team and Harper's found itself in hot water over a yet-to-be-published article.
Here's what's happening this week…
Hearst Will Cut 145 Former Rodale Employees
145 former Rodale employees will soon be out of a job in the wake of Hearst Magazines' takeover of the company, according to a notice issued by Hearst to the Pennsylvania Department of Labor & Industry and Emmaus, PA officials last Thursday.
Locations affected by the layoffs include, according to the notice, Rodale's main office in Emmaus, the Rodale Photo Studio, Rodale Test Kitchen, and its Iron Run Distribution Center—a 100,000 sq foot facility opened by Rodale in 1989, which will close entirely.
Companies are required by the 1988 Worker Adjustment and Retraining Notification (WARN) Act to issue at least 60 days' notice when a round of layoffs will cut at least one-third of the active workforce from a single job site.
The notice adds that one individual left on January 9th. The rest of the layoffs are due to begin on March 10th.
Rodale, whose history in Emmaus goes back more than 80 years, is the town's second-largest employer after the local school district. Hearst has said that it plans to maintain a presence there, and announced earlier this month that two former Rodale titles, Bicycling and Runner's World, will remain based in the Lehigh Valley as part of the new Hearst Enthusiast Group.
Hearst did not respond to a request for comment.
---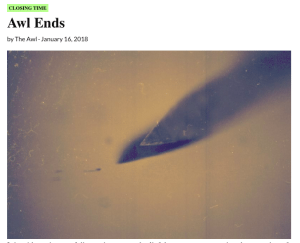 The Awl Is Shutting Down
The Awl and its female-focused sister site The Hairpin are shutting down at the end of January, both sites announced today.
"It is with a mixture of disappointment and relief that we are announcing the cessation of editorial operations on The Awl at the end of this month," reads a farewell note posted to TheAwl.com on Tuesday. "For nearly a decade we followed a dream of building a better Internet, and though we did not manage to do that every day we tried very hard and we hope you don't blame us for how things ultimately turned out."
A similar note from The Hairpin reads, "The site started with a dream of making a space on the Internet unlike any other, and we were deeply gratified by the number of people who took that mission to heart and made it into something of their own. We hope when you look back on what we did here together it makes you proud and not a little delighted."
No indication as of now whether The Awl's other two sister sites, The Billfold and Splitsider, will continue running or also cease operations.
Founded in 2009 by former Gawker editors Alex Balk and Choire Sicha, the site followed other publishers to online platform Medium in April 2016 before switching back to WordPress and reinstating advertising a little over a year later.
---


Hanley Wood Expands Its Data Business
Hanley Wood is rolling out a big expansion of its Metrostudy market intelligence business, creating what the company says is the only solution that addresses builders' data needs on both the supply- and demand-side.
The expanded demand-side insights include sales trends and competitors' pricing data as well as information on homebuyer demographics and preferences, among other datasets.
"Our clients need timely competitor pricing and sales activity information to optimize their go-to-market strategies," said Metrostudy president Andy Reid in a statement. "Our customers have asked us to deliver a complete lifecycle data solution for informed decision-making across their entire organization. Not only does our single-source solution do just that, the combination of these two methodologies result in new insights never before available to the industry."
Metrostudy also announced a new partnership with HomeAid America, a charity that funds the construction of homeless shelters through 19 local chapters across the country. Metrostudy will become a Gold-Level sponsor to the non-profit organization, and chief revenue officer David MacIntosh will join its board of directors.
"HomeAid's work with homeless individuals and families has been fantastic and it's a privilege for us to join with them to add our industry expertise and relationships to their efforts to eradicate homelessness across the country," said CEO Peter Goldstone in a statement. "We look forward to working with them for years to come."
---
Condé Nast Cuts Ties With Photographers Amid Allegations
Condé Nast announced in a statement Friday that it would no longer work with famed fashion photographers Mario Testino and Bruce Weber "for the foreseeable future" following widespread allegations of unwanted sexual advances and molestation brought against the men by numerous accusers.
"We are deeply disturbed by these accusations and take this very seriously," read a statement attributed to Anna Wintour and CEO Bob Sauerberg.
Separately, the company revealed a new code of conduct aimed at protecting models on its sets, including stipulations that all models be at least 18 years of age, alcohol and recreational drugs be banned from all sets, and that all shoots involving nudity, lingerie, swimwear, or "sexually suggestive poses" be approved by the subject in advance.
---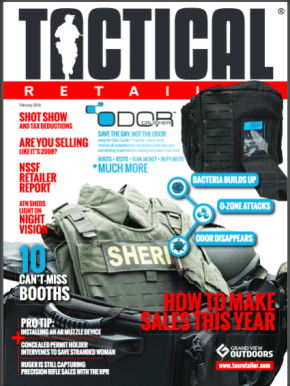 Cole Publishing Acquires Grand View Media's Outdoor Titles
Wisconsin-based Cole Publishing, whose suite of magazine brands serve the plumbing and wastewater industries (Plumber, Pumper, and Municipal Sewer & Water magazines, among others), announced its acquisition of Alabama-based Grand View Media's outdoor division.
Included in the sale are seven Grand View titles serving the hunting and archery space. Terms were not disclosed.
"When I learned that the Grand View Outdoor titles were for sale, I immediately jumped at the chance to purchase them," said Cole president Jeff Bruss in a statement. "Bowhunting runs in my veins, and the opportunity to acquire these industry-leading titles with such a tremendous reputation was a no-brainer. The Grand View Outdoors staff is awesome, and we can't wait to bring the small-company way of doing business back to the hunting industry."
The announcement implies that much if not all of the staff at the former Grand View magazines will be maintained, and the magazines will remain located in Birmingham, Alabama.
The sale reduces Grand View Media's portfolio to a dozen media brands serving various agricultural and industrial spaces following the company's sale of Nephrology News to N.J.-based Slack, Inc. in November.