Hearst Launches Dr. Oz The Good Life

First issue hits stands on Feb. 4.
[This article first appeared on FOLIO: sister site min.]
Hearst Magazines will launch Dr. Oz The Good Life in partnership with daytime talk show host and bestselling author Dr. Mehmet Oz.  The women's health magazine will debut with a March/April issue set for nationwide release on February 4.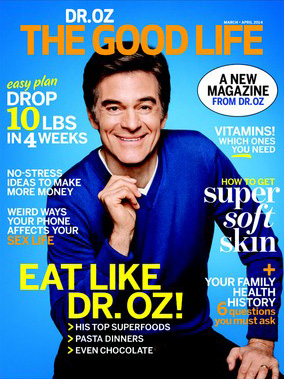 "We have a successful track record of partnering with great brands," says David Carey, president of Hearst Magazines, in a release. "Dr. Oz is an ideal collaborator."
Oz is the founding editor with Alison Brower as editor-in-chief and Lisa Oz serving as editor-at-large. The rest of the editorial team is filled out by a revolving door of contributing writers, doctors, personal trainers and financial experts.
Each issue will open and close with content written by Oz, including a "From the Heart" open letter sharing his personal anecdotes and photos and back-page recurring column, "Dr. Oz's Prescription," which is a call to action for readers.
The first issue covers a range of topics including the staple "Ask Dr. Oz Anything" column, an "Around the World" story that looks at global trends for physicians and traditional healing remedies, and to include some male-specific content, a "Her Heart vs. His Heart" story focused on heart disease, a leading killer of both sexes. Also, there are stories on fitness, sleep, stress control and even the importance of skincare to your overall health.
The first issue totals 148 pages, 66 of which contain advertising including Dove, Mazda, Neutrogena and Rado Switzerland, and will have a total distribution of 800,000—375,000 on newsstands with a $3.99 cover price and the rest going to subscribers of the magazine and select other Hearst titles.
A 53-year old cardiothoracic surgeon, Oz became a staple in American homes with his appearances as the health expert on the long-syndicated daytime powerhouse, "The Oprah Winfrey Show." Through Winfrey's dedicated audience, Oz was able to grow a media business that includes bestselling books, a popular nationally syndicated talk show and work as a contributing author to Time and O, The Oprah Magazine.
"There is an inextricable link between health and every area of our lives," says Oz in a statement. "I want this magazine to be the place for women to find information that enlightens them, but also delights them and emotionally connects with them."
A second issue of Dr. Oz The Good Life, a May/June issue, is scheduled to hit newsstands on April 15.
Meet the Author
---