Seventeen to Launch Branded Workout Videos

Hearst partners with television network to produce 50-video series.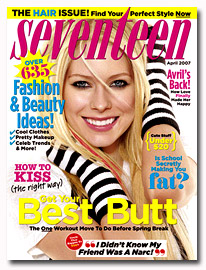 Hearst Magazines Digital Media has partnered with video and
on-demand television network ExerciseTV to produce the Seventeen Trainer, a series
of Seventeen magazine-branded exercise videos for teenage girls.
Hearst hopes the partnership will help inspire its readers
to make fitness more of a regular part of their daily lives.
"Health and fitness are major components of our editorial
content at Hearst magazines and, in our research, we have found that workout
and trainer videos are consistently the top performing videos across our
magazine-branded sites," Chris Johnson, Hearst Magazines Digital Media vice
president of content and business development, said in a statement.
A Hearst spokesperson declined to comment on the partnership's
revenue model.
Expected to launch in October, the series of 50 two- to
three-minute videos will be available for download and on demand on the
ExerciseTV Web site and at seventeen.com.
Meet the Author
---