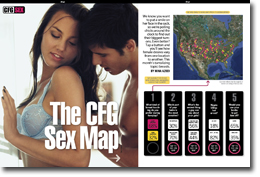 Hearst staple Cosmopolitan is entering new territory in the digital realm with Cosmo For Guys, an exclusively digital offering available on the iPad August 1.
Kate White, editor-in-chief of Cosmopolitan, is also at the helm of the new app. Working with a staff of about 10 editors, art department members and digital developers from the Cosmo team, White is confident she has a unique offering with Cosmo For Guys (dubbed CFG). Aimed at the male demographic of 25 and up, White says, "It's advice from women for guys, straight from the source. Men circulate the same myths about women to one another; this is women telling guys what they really want."
CFG is set to include several interactive features including 3D how-to's, live polls and quizzes. Editorial content includes columns such as "Dating Dilemmas", in which women answer oft-asked questions, and CFG staff supplies further explanation. Other features include "Will She Like It?", supplying women's viewpoints on fashion and a gift buying guide with "Tap to Buy" options.
In order to promote the new effort, CFG is heavily touted in Cosmopolitan magazine, as well as on its website and other digital properties. White says there will also be a large social media effort, combined with advertisement through Cosmo Radio.
Once launched, there will also be a radio show under the CFG moniker. A book set for release in the fall, "Satisfy a Woman Every Single Time," will feature the CFG logo as well.
White says of the launch, "The great part is that it's not a huge investment. If it turns out that it isn't a success, it's something that was worth the risk and been a heck a lot of fun to work on."
Available in the iTunes store on August 1, the app is priced at $1.99 per month for a subscription paid on a monthly basis; $3.99 per single copy purchase and $19.99 for an annual subscription.