Hearst Jumps Into E-Book Publishing With Cosmo Red Hot Reads

Two original e-book titles to be published per month beginning in May 2013.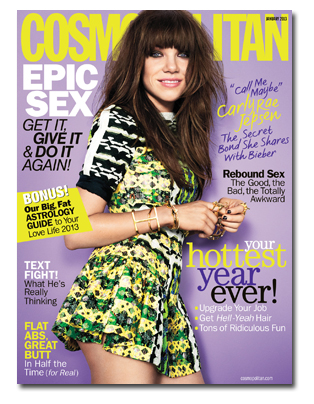 Hearst Magazines is testing out the e-books market with the safety net of the world's largest women's magazine—Cosmopolitan. In a joint partnership with Harlequin, a women's and romance novel publisher that spans 114 international markets, Hearst will introduce digital books bearing the Cosmopolitan logo.
Under the agreement, Harlequin intends to publish two original 30,000-word e-book titles per month beginning in May 2013. The novels, which will be written by some of Harlequin's bestselling authors, will take on the brand's editorial voice and be reminiscent of the popular title Fifty Shades of Gray, editor-in-chief Joanna Coles says in a statement.
"We took a look at some of our studies and it turns out 1 in 7 Cosmo women read romance novels, more than 10 million Cosmo readers bought at least one book in the last 12 months and 1.8 million readers bought at least one romance novel," Mark Gompertz, creative director of Content Extensions for Hearst Magazines, tells FOLIO:. "We didn't have to be convinced anymore that this was the time to create a line of romance fiction."
Cosmo Red Hot Reads is a content section with the magazine that publishes literature for readers. These shorter length books published by Harlequin will share that branding and cover the same type of subject matter that this content section in Cosmo is known for.
"Romance readers were really the first to embrace e-books when the trend started," says Gompertz. "These readers buy multiple books at a time and are constantly reading so we wanted to make them long enough so the reader would be absorbed, but short enough so they could read another right after the last page is turned—that's really the Harlequin thing."
These e-books will be available for all major platforms and devices—e-readers, tablets and smartphones for Apple, Android and Windows products. Gompertz says some of the more successful titles could also wind up in print, though the main focus is on the digital landscape. Right now the book will be all content but it is possible that editions could see images or interactivity in the future. Hearst and Harlequin are still determining how to price these books.
"Readers might be waiting on a long line and in the middle of reading a book on their tablet, but they don't have their tablet with them so they pull out their phone," says Gompertz. "A lot of people are doing mobile right now and technology has just been getting better and better."
Hearst will promote these books to its more than 18 million monthly readers across a variety of platforms, including: Cosmopolitan.com, the print magazine, Facebook, Twitter, Pinterest, the brand's YouTube channel and its Sirus Satellite radio program.
"We'll do premium incentives with online subscriptions and we'll also be doing sweepstakes—one idea was to possibly have a character named after a reader," he says. "We'll also have a flipbook on our website so the titles rotate, as well as banner ads. We also have a huge database of email addresses so we'll do promotions to our subscribers and we'll use our newsletter that reaches over 500,000 people."
Harlequin and Hearst will be sharing revenue in on these e-book sales—Gompertz says both companies are "equal partners."
In addition to harnessing the brands domestic audience, Harlequin and Hearst may team up to tap other markets or launch additional projects.
"We also have 64 international editions of Cosmo and Harlequin publishes all over the world," he says. "I don't want to get too far ahead but there are plans to publish these abroad. We'll also be doing cross promotion and advertising internationally. If these work the way we think they will, which was sort of my mandate when I came here 5 months ago, I can certainly see that there will be other brand extensions."
Stay updated on the latest FOLIO: news, follow us on Facebook & Twitter!
Meet the Author
---