Hearst-Incubated E-Reader Launching in 2010

'Skiff' will offer digital storefront, production and device integration.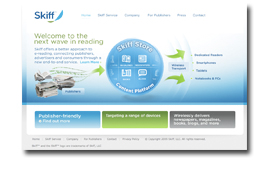 A new digital content storefront and e-reader device service, called Skiff, is set for a 2010 launch. The company, originally called FirstPaper and incubated under Hearst's Interactive Media division, will offer an e-reader platform, a Web-based storefront, and out-of-box integration with mobile, multipurpose devices.
Skiff is positioned as a platform that supports the design and layout aesthetics of magazines and newspapers—qualities that the current crop of e-readers are not quite able to reproduce.
The service is planning to offer content from multiple publishers, not just Hearst. Skiff president Gilbert Fuchsberg told FOLIO: that there are "many" publishers already committed to work with the service, but declined to say which ones. "We and they aren't ready yet to talk about that, but will do so closer to launch," he said.
Publishers can partner with Skiff to create and design the digital versions of the magazines, said Fuchsberg. "We need a good, clean XML feed and a set of design rules and we will work with them to create the right design for them. That's one of our distinctions. The ebook is commoditized and not what [magazine and newspaper] publishers are looking for. We have a set of tools for publishers to make it easy for them to create a great looking publication."
The company, headquartered in New York with offices in Palo Alto, California, grew up as a separate entity under Hearst's Interactive Media umbrella, and was called FirstPaper. "That was  placeholder name," said Fuchsberg. "We never intended that to be a consumer brand, and as we move to market next year we felt it was important to shed our stealth mode and get some awareness around the Skiff brand."
An End-to-End Service
More than just a storefront, Skiff is offering an end-to-end solution that provides a content platform, unique advertising standards and, importantly, client software that comes pre-installed on range of hardware from different manufacturers.
Semiconductor company Marvell was tapped to create a "system on a chip" component that allows device makers to more easily integrate the Skiff platform with the device. "Marvell helps us get deeper into the ecosystem of the device world," said Fuchsberg, "and they will be an enabler in embedding the Skiff service into the devices."
Fuchsberg was reluctant to provide any detail on specific hardware that the service will be available on, including whether or not a Skiff-branded device will hit the market.
Consumers will be able do download content onto the wireless devices, accessed through a Web-based storefront. Fuchsberg said there will be a range of pricing models for the content, with a focus on subscriptions. "There will be a range of options and we and the publishers are obviously excited about the subscription-based models, which consumers tend to favor. From a value perspective, that makes sense, but we certainly want to offer a choice and want to give them an opportunity to purchase on a single-copy basis. The single article concept is where it all might be going, but many publishers are not ready to go there yet," he said.
It's unclear whether Skiff will play a role in the spinoff company that Hearst, Time Inc., Conde Nast and Meredith are creating to sell and distribute digital magazines. Citing the absence of any official announcement from the four companies, Fuchsberg declined to comment.
Skiff has partnered with Sprint to provide 3G connectivity and retails sales of Skiff readers and is working with publishers and advertising agencies to develop standards and formats for dynamically-delivered advertising. Nielsen and comScore will provide planning, buying and analytics services specifically tailored to the e-reader market. 
Meet the Author
---