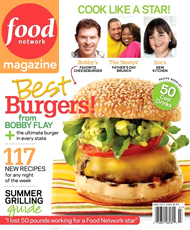 Hearst Magazines announced today that after just two test issues, it will increase Food Network Magazine's rate base from 400,000 to 900,000 copies, effective with the October 2009 issue, followed by a scheduled increase to 1.1 million in August 2010.
Published in partnership with the Food Network, the magazine was introduced with two newsstand-only test issues in October 2008 and January 2009, resulting in a 70 percent sell-through of the first test issue and more than 550,000 paid subscriptions to date. The official launch issue is set to hit newsstands on May 5.
According to publisher Vicki Wellington, the "immediate, powerful response to Food Network Magazine, both from readers and marketers, has been astounding, and it has translated into our rapid growth."
Food Network Magazine's initial rate base of 300,000 for the October 2008 test issue was achieved three weeks after hitting newsstands. It increased to 400,000 with the June/July launch issue, which will deliver a 100 percent bonus.  Food Network Magazine will publish four more issues in 2009 with a $3.99 cover price. Each issue will feature tips and recipes from various Food Network chefs and hosts, as well as a look behind-the-scenes at some of the network's most popular shows.