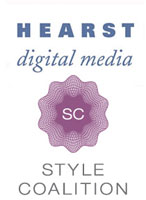 In addition to a new portfolio of magazines, Hearst also inherited ELLE's partnership with the Style Coalition blog network during its 2011 Hachette acquisition. Hearst Digital Media will expand this partnership to include Hearst's 28 digital properties; its ad team will also sell Style Coalition [SC] display advertising, in addition to using SC resources to create custom programs for marketing clients.
Style Coalition, led by founder Yuli Ziv, joined forces with ELLE in 2010. Since then, SC's 40 bloggers have helped create custom programs for brands such as Lancome, Dolce & Gabbana and Gap.
Laura Schooling, director of marketing at Hearst Digital Media, says of the growing partnership with SC, "In the same way we can expand our scale across their network of quality bloggers, we can tap into the 40 bloggers to create custom content that lives on the blogs. We can also fold the content into other editorial properties and leverage for advertisers."
SC's bloggers bring a strong Web presence to Hearst's properties, with some blogger sites drawing one million uniques monthly. Despite Hearst influence, Ziv remains in control of blogger tasks.
"We funnel everything through Ziv because she knows the bloggers so intimately, and also has experience on the ad side, so she understands what clients are looking for," says Schooling. "If we're looking to create a program, whether its something as simple as a blog post, or something larger scale like an event series or leveraging the blogger as more of a brand ambassador, she can field those questions."
Custom content possibilities for Hearst marketing partners now include editorial, video and photo options. Bloggers are compensated on a case-by-case basis.
Style Coalition was founded in 2008 "to act as the liason between brands and social media outlets and to help bloggers sell any monetary aspect of their blog, from display media to custom content," according to its website.
"What makes it so unique for Hearst is that its not a matter of adding scale or tapping into a blogger one-off; we're able to create all these custom content experiences that can live in multiple places: our sites, brand sites, the blogger sites, social platforms. We're excited to have scale and quality come together across the board," says Schooling.