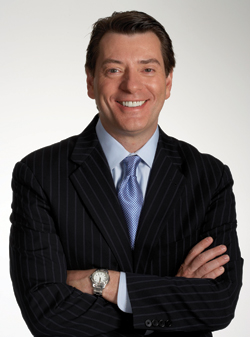 Chuck Cordray [pictured] has left his position as senior vice president and general manager of Hearst Magazines Digital Media to become president of Pitney Bowes' Volly secure digital delivery service.
Cordray, who became general manager of Hearst Digital Media in 2006, had overseen much of the publisher's aggressive digital strategy for its magazine brands, which includes highlights such as drawing more than 20 million users across its online properties, generating millions of print subscriptions via the Web and double digit advertising growth online. In 2010, Cordray was named to the min Digital Hall of Fame, which said that 80 percent of Hearst's online ad dollars involve at least three of the network's sites.
Volly, which launched in January, is a cloud-based digital mail platform that lets consumers receive, view, organize and manage bills. Last month, Hearst launched the beta version of Manilla, its own personal account management system that lets consumers link bank accounts, view statements, pay bills and manage subscriptions through one account.