Hearst Carpet-Bombs the App Store

Is the company's new app-generation scheme schmaltzy or savvy?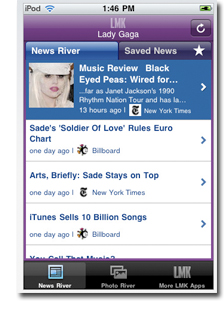 At first, I thought Hearst's new iPhone app division sounded cheesy, but the idea is gradually growing on me.
The division, called LMK, short for "Let Me Know", is a lean operation. Five employees churn out apps that cost $.99 to $1.99 for a "few hundred dollars of employee time," said the division's executive vice president George Kliavkoff in an article by The Wall Street Journal. This thing is built with one objective, load up the App store with as many products as possible, as quickly as possible and wait for the money to flow in.
The app generation operation seems to have emerged out of a destination site called LMK.com, originally built by Hearst Entertainment last year as a growing number of vertical channels supported by content aggregation and curation tactics.
The apps are essentially mini content aggregators by themselves. Each is built within a similar template and collects links from a variety of sources on a particular niche topic—specific celebrities, sports teams, etc. "LMK's five full-time employees simply dig up the best sources of information on each topic area and feed the sources into a common template," says the WSJ.com story. The only costs apparently are employee time and photo licensing as needed.
It's a corporate approach to everyone's app creation lottery fantasy. (What if we created an app that didn't require much work, chucked it into the App store for 99 cents and see if we can sell a few thou?)
It's an adaptable strategy. If it doesn't work, roll it up and move on. In the meantime, the plan is to eventually have thousands of apps available.
At its heart, the plan acknowledges that the store is already bloated with 150,000 apps and aims to tip the ratio in its favor (reports note that Hearst has confirmation from Apple that the apps will not be barred from the store despite their volume and lightweight utility). Second, studies have pointed out that many apps are downloaded, consumed and then discarded shortly thereafter anyway. Why not keep the pipeline stocked as long as the demand continues? As one trend emerges, LMK produces an app. As that trend dissipates, LMK is close behind with another app based on the next trend. Rinse, repeat.
Curiously, the strategy hinges on an automated, multi-source aggregation tactic that is reminiscent of similar tactics from other aggregators that frequently draw the ire of big publishers. It's also a light-weight product, a simple bet that consumers will value an aggregation tool at 99 cents that collects news about a favorite team or celebrity.
But it's a low-cost, under-the-radar operation for Hearst and one that just might produce decent returns.
Meet the Author
---