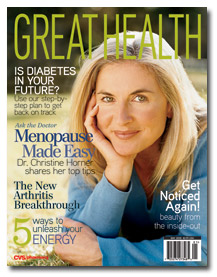 A new health magazine has tapped CVS pharmacy's list for its launch.
Great Health, a 52-page custom glossy from niche custom publisher Basic Media Group, will be sent free to the top 500,000 female CVS ExtraCare card holders. A correlating Web site, Greatheathmag.com, will launch simultaneously, linking to CVS.com.
If you don't get your copy in May, don't be alarmed—publisher Bob Preston told FOLIO: that circulation will "grow into the millions in upcoming years" as distribution expands to additional card holders.
The magazine will target baby boomer women 40 years and older, covering health and wellness issues and, according to Preston, featuring a celebrity on each cover. The magazine will not be sold in stores and will be distributed free but will have a value of $3.95, Preston says.
"It's the only health and wellness magazine that guarantees that its reader is also a proven customer," Preston wrote in the magazine's media kit. According to Preston, 38 percent of the U.S. population—some 75 million people—are ExtraCare cardholders.