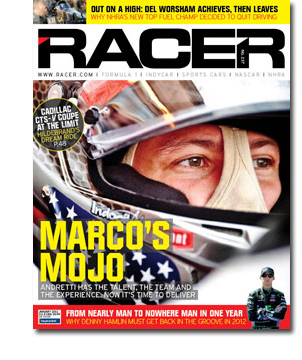 Haymarket Media has sold its majority stake in Racer Magazine back to its original founding management team of Paul Pfanner and Bill Sparks. The brand was launched 20 years ago and Haymarket has held majority ownership for the last 11 years.
Also included in the transaction is Racer.com and Racer's custom publishing operation, which produces SportsCar for the Sports Car Club of America, and operates the Racer Special Projects Division, which generates multiplatform content marketing solutions.
The new company, Racer Media & Marketing, will also align the brand with Pfanner's content marketing and brand development firm Pfanner Communications Inc.
Racer, which targets enthusiasts with a love for all things car racing, has about 20,000 subscribers and its website attracts about 100,000 monthly uniques.