Have Paper Prices Peaked?

Forecast: Nearly all grades hit high-water-mark in October.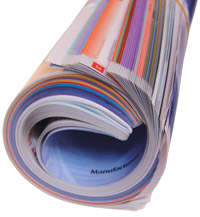 For an industry reeling from layoffs, closings and hemorrhaging print advertising dollars, finally some good news.
RISI, a leading information provider for global forest products industry, said last week that the prices for nearly all grades of paper used by magazine publishers—including newsprint and coated freesheet—peaked in October.
According to a report in the current issue of RISI's Paper Trader monthly magazine, market prices for most grades either peaked or began to decline last month.
Meanwhile, RISI's International Woodfiber Report recently predicted that North American virgin wood fiber demand could fall more than 20 million tons by 2009. That report cited the rash of mill closures this year and other "negative indicators" as the primary factors in its forecast.
With U.S. magazine publishers seeing their ad pages plummet (down 9.4 percent through September, according to the Publishers Information Bureau) and page counts dwindle, the paper market is oversupplied "which makes it very hard for producers to raise prices," said Chris Cook, deputy editor of PPI Pulp & Paper Week. "What goes up, must come down."
Mill orders in September were off 17 percent in what is normally a seasonally strong month, Cook said.
Magazine paper prices have risen about $230/ton—about 25 percent—in the past 18 months, Cook said, but industry analysts don't expect them to fall that far "because producers will idle their machines rather than run at a loss."
If paper prices have peaked, as RISI predicts, when will they return? "When producers again match supply to demand the market will tighten and price hikes become possible," Cook said.  "But for this to happen either we need an economic recovery which generates more paper demand through increased print advertising or producers will have to remove capacity."
Cook said he wouldn't expect it in 2009: "It looks to me as if magazine publishers are in for a world of hurt next year."
Meet the Author
---