Have the National Magazine Awards Become Too New York-Centric?

Of 128 Ellies finalists, 78 are based in NYC.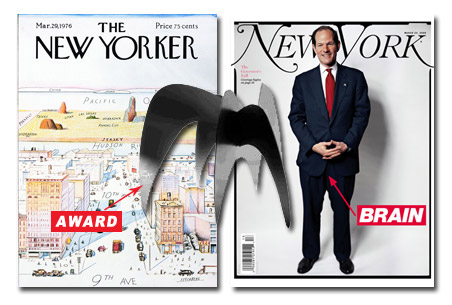 The finalists for the National Magazines Awards were announced yesterday. And—like every year—the list included some surprises (Good), snubs (Esquire) and the requisite head-scratchers (Bloomberg Markets?) that make any awards process fun.
And, also like every year, the list, like a lot of things in the consumer magazine industry, was dominated by a disproportionate number of magazines about or originating in New York.
Of the 128 finalists for this year's Ellies, at least 78 are based (or have significant staff) in New York City. That's over 60 percent, for those of you scoring at home. (The New Yorker and New York magazine combined for 21 nominations alone.)
It's always been a criticism of the media at-large. It locks its viewfinder on New York—to a lesser extent, L.A.—and nothing else. And the media that covers media—particularly the journalists that cover the magazine and advertising industries—are especially prone to overstating the importance of New York, or, perhaps more accurately, not expanding the scope beyond Manhattan enough.
I think it's a valid gripe to have, but an unfair one, too. For starters, what is a journalist covering the magazine industry supposed to do when the American Society of Magazine Editors is not exactly hunting down new nominees (sorry, the Virginia Quarterly Review doesn't count anymore)? And when virtually every major magazine publisher works or has a sales office in New York, it's tough not to have your view distorted.
While we, at FOLIO:, always talk about representing the entire swath of magazine publishers in such far-flung places as "Washington D.C." and "Chicago," we're admittedly part of the machinery that gives New York its big head. (We'll shoot video and liveblog the Ellies in May, for example, like every other magazine media outlet—and we should.)
But who cares what I think. What do you think? Has ASME become too New York-centric? Have the National Magazine Awards become the New York Magazine Awards? Will the MPA ever tire of Adam Moss?
Drop your comments below …
Meet the Author
---