Have $42,000? Buy a Magazine!

Publisher puts Hardcore Gamer up for auction on eBay.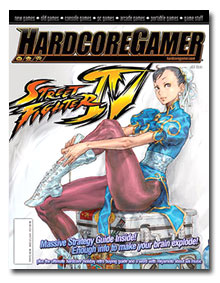 It has come to this.
Double Jump Publishing, the owners of national video game enthusiast magazine Hardcore Gamer, have put the magazine on the block—on eBay. The starting bid? A mere $42,000.
"You will be buying the copyrights, registered trademark rights, intellectual property rights, back issues, subscription lists, customer lists, vendor lists, employee contracts, distribution contacts, public relations contacts, advertising contacts, web sites and domain names associated with Hardcore Gamer, including HardcoreGamer.com and around thirty other domain names," the post reads. The buyer can even use the monthly magazine's existing employees, consultants, sales people and management to help train them to run the business.
The auction, according to the listing on eBay, is open until January 13. So far, there are no bidders.
Double Jump isn't the first publisher in recent weeks to resort to drastic measures to sell off a magazine property in a hurry. Alpinist, a 9,000-circulation quarterly about alpine-style mountain climbing which ceased publication in October, was apparently sold via a "live phone auction" for $71,000.
Meet the Author
---