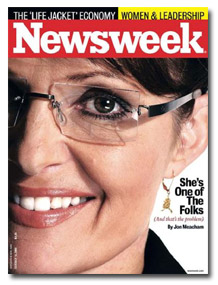 A couple weeks ago, Newsweek editor Jon Meacham appeared on Fox News' Factor and took a tongue-lashing from host Bill O'Reilly, one that turned oddly personal.
O'Reilly's beef? That Newsweek, under Meacham's watch, has gone from a liberal-leaning magazine to something of a mouthpiece for liberal blog Daily Kos (which O'Reilly referred to as a "hate site") and its founder, Markos Moulitsas, whom Meacham hired as a contributing columnist. Which, I thought, is a bit absurd. After all, Meacham is the one who simultaneously hired Karl Rove to write a column in the magazine.
"We wanted our readers to get some insights into the mindsets of folks who are ferociously partisan," Meacham, who took the reins in 2006, told O'Reilly. "You can disagree with that, but to dismiss an entire magazine because of that is a disproportionate reaction."
O'Reilly's response: "If you can explain having eight liberal columnists to three conservatives in a way that I can understand it, then I'll admit that I'm wrong."
But after reading Meacham's cover story and accompanying editor's note in this week's issue—an attack, albeit an obvious one, on Republican vice presidential nominee Sarah Palin's lack of experience ("It is good politics to run as a hockey mom who is going to reclaim the office for the masses [a curious cause, to be sure, since I do not think the masses have been clamoring for it, but there we are]. It will, however, almost surely make for poor governance")—I think it's appropriate to put O'Reilly's question up for debate: Has Newsweek become too liberal? And, more importantly, does it even matter?
Is the notion that news magazines have an obligation to be bipartisan—a balance Meacham has at least partially tried to keep by hiring conservatives like Rove—antiquated in the blogodome era?
Your thoughts?