Has the Marketing Pendulum Swung Too Far to Paid Search?

Are clients paying for traffic that they'd get anyway through organic search?
Whether Google is friend or foe, the clear fact is many publishers have seen marketing clients divert significant dollars away from their print, online and event products and toward paid search programs. After all, it's cheaper, SEO experts typically tell brands to buy their name and Google is how everyone finds things online, right?
Well, yes and no. A look at the traffic drivers for select consumer and b-to-b marketers through Compete.com shows that almost without exception, Google is the top referring site to the marketer's homepage. However, for many sites, that's due to users entering branding terms (like the company's name) into Google search even if they know the brand's URL because it's quicker than typing it into the browser. Often, organic search seems to drive more traffic than paid search. In other words, many marketers are paying for searches they would get anyway, thanks to existing brand awareness.
Case By Case
Let's start by taking a look at the kitchen and bath fixtures category, which includes a mix of b-to-b and b-to-c marketers. Kohler.com boasted 75,765 visitors in August 2009, according to Compete.com. Top search terms included "Kohler," "Kohler faucets," "Kohler toilets," and "Kohler trim." Top referral sites include Google, Yahoo!,  kohlernews.com and bing.com. The organic search term "Kohler" accounted for 23.46 percent of the site's total traffic from search.
Meanwhile, paid clickthroughs accounted for 6.42 percent of Kohler's August traffic—more than the second best performing search term "Kohler faucets" (which accounted for 4.75 of traffic), but still well behind the top organic search term. 
Competitor Delta Faucet saw 125,090 unique visitors in August, with the organic search term "delta faucets" driving 33.53 percent of traffic. However, Delta also showed a substantially higher return on paid search,  with the term "deltafaucet.com" driving 19.02 percent of traffic.
Looking at a broad consumer category like golf equipment, Calloway.com saw 37.7 percent of its traffic from organic search and 20.5 percent from paid search in August, while Ping.com saw 34.8 percent from organic search and just 2.3 percent from paid search.
One could reason that search results for Calloway are brand related while search results for Kohler competitors are more brand generic."I'll argue that some brands like Calloway are paying for traffic that they would likely get anyway and others (like Kohler) are likely being outspent by their competition and may be losing some sales opportunities," says  Stephen Davis, vice president and group publisher of data provider SRDS (a sister company to Compete.com).
When Paid Search Comes Through
Of course, organic search doesn't always trump paid search. Online mortgage company QuickenLoan.com derived 44.5 of its traffic from paid search.
"I think certain categories are more prone to gaining audience via paid search than others (travel, mortgages, catalogue shopping)," says Davis. "So the percent of overall traffic is better compared to their competitive set than to other norms. All marketers try to win the organic search game but you need relative content, a great audience and link partnership to beat the algorithms."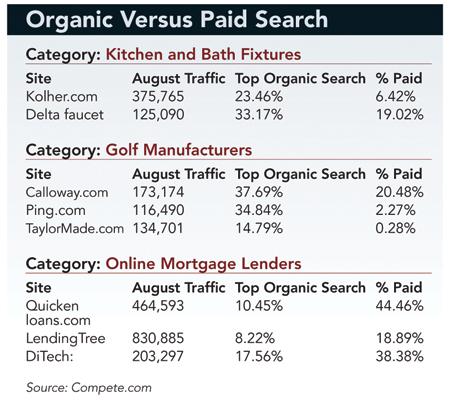 Meet the Author
---