Harvard Lifestyle Magazine Featured Eliot Spitzer, Wife 'In Happier Times'

02138 reminds press of Spitzer cover shoot.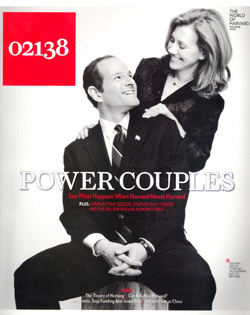 That didn't take long.
A scant two hours and 17 minutes after the New York Times broke the story that linked governor Eliot Spitzer to a prostitution ring, I got this press release from a publicist for 02138, perhaps the last (only?) magazine to feature Spitzer and his wife on its cover.
From: [REDACTED]
Sent: Monday, March 10, 2008 6:03 PM
To: Dylan Stableford
Subject: Eliot Spitzer & wife Silda Wall on cover of 02138 —in happier times

In Happier Times: Eliot Spitzer and wife Silda Wall on the "Power Couples" issue of 02138, the lifestyle magazine for Harvard influentials

Photo Credit: Jake Chessum at Capsule Studio in New York

Eliot Spitzer's shocking admission about his involvement in a prostitution ring has rocked the political arena today.

Not long ago, Spitzer and his wife Silda Wall posed for the cover of the Winter 2007 "Power Couple" issue of 02138 magazine, the lifestyle magazine for Harvard influentials. The Harvard-educated couple, selected because of their influential careers and continued commitment to maintaining a strong and lasting relationship, seemed the picture of political marital bliss. The black-and-white cover photo showed a part of Spitzer and Wall's relationship not often depicted in the public realm.

To read the full article from the "Power Couple" issue of 02138, go to http://www.02138mag.com/magazine/article/1113.html.

For a jpeg of the Winter 2007 02138 cover with Eliot Spitzer and Silda Wall, please contact me at [REDACTED] or [REDACTED].

Best,

[REDACTED]
Note: It appears Domino recently conducted a video interview and tour of the Governor's mansion with Silda. Perfect timing, that.
Meet the Author
---