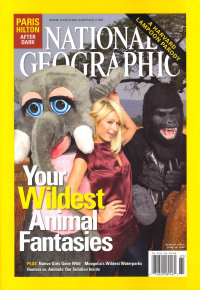 The Harvard Lampoon—the humor magazine known for its famous alumni (Conan O'Brien, John Updike et al) and occasional full-on parodies of national magazines—has completed work on its latest victim: National Geographic.
With explicit content befitting of a Friars Club Roast, the Lampoon is set to publish a version of National Geographic featuring Paris Hilton—its honorary 2008 member—on the cover.
The 100-page issue, hitting newsstands on April 1, carries just 10 ad pages, including a full-page congratulatory ad for National Geographic that reads: "Some people mock the world… Others explore it."
The magazine, published five times per year, is distributed free to 15,000 Harvard undergraduates and alumni and 30,000 subscribers. According to a Lampoon spokesperson, the parody's print run has more doubled from approximately 100,000 in 2005 (for the Lampoon's Premiere parody) to 225,000 for the National Geographic spoof.