Harris Publications to Launch Celebrity Gossip, Beauty Magazine

Juicy to have a 150,000 newsstand-only circulation.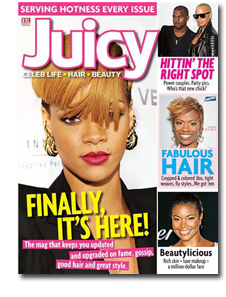 Harris Publications has announced the launch of a new print magazine: Juicy. The newsstand-only title will carry a 150,000 circulation.
According to publisher Dennis Page, Juicy will target African-American and "multicultural" women aged 18 to 34 and will cover celebrity life/gossip as well as hair and beauty. "We're calling it a sort of hybrid," he said. "There have been few attempts to hit this market. We think celebrity gossip and beauty/hair are central to all women."
With a $4.99 cover price, Juicy hits newsstands in May and will publish four times in 2010 with its Web site, juicymagonline.com, going live shortly before. Harris expects it to go monthly next year. "With the right book, we still believe in the newsstand," said Page.
Last spring, Harris Publications—which also publishes XXL and Antenna magazines—pulled the plug on hip-hop magazine King but relaunched it in December as The Women of King.
Meet the Author
---